Sea Sunday – 9 July 2017
The People of the Sea today
What if you awoke on a dark morning in a little bedroom and you had no light to get dressed by, or to find your way to the bathroom? Imagine yourself lying in bed in the dark feeling angry. Because when you started working for your company, they asked you to pay them to get the job; or they forced you to volunteer until a job became available.
What if your shower was a rusty mess? How would you feel if there was not enough food to give you energy to do your work? Or what if there was food, but it was bad?
How would you feel if you had nowhere to relax or talk to others?
What if the kitchen and cutlery were so dirty you could not use them, and there was no detergent available to clean them? What if your drinking water was contaminated? How would you feel if you had nowhere to relax or talk to others? How would you feel working without an employment contract, and having no guarantee you would be paid? Or worse, your pay rate was so low that you could not live on it?
What if you had a partner and two children to support back home, and your employer did not send your pay to them as he said he would? What if you were sick and had no chance of medical help? What if, as well as all this, the vessel you sailed in was a rust bucket, unfit to be at sea?
Members of Apostleship of the Sea (AoS) in New Zealand can come across situations like these. And it was because of situations like these that, in 2016, the New Zealand Government ratified the 2006 Maritime Labour Convention [MLC]. New Zealand signed, not with any expectation that the exploitation of seafarers would stop immediately, but so that Maritime New Zealand and the Maritime Union of New Zealand, along with the AoS and other church organisations that minister to seafarers, could work as a team to convince shipping companies and poorer countries that unsafe ships are unacceptable, and the exploitation of seafarers must cease.
How would you feel if you were treated unfairly at work every day? How would you feel if you did not know who to go to for help?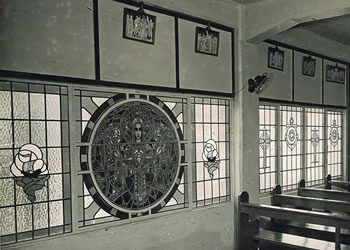 So that there is someone who brings help, AoSNZ volunteers working in seafarers' centres, or visiting ships in our ports, contribute to New Zealand's enactment of the MLC. In this way, we also have a meaningful entry point into the lives and families of those we serve. When we hear of the things that seafarers endure, we stand alongside them as advocates, and refer them to the agencies that have the mandate to act within New Zealand.
In the past, the ministry to seafarers was a little easier, in that we provided welcome, hospitality, and friendship to help overcome loneliness. Among other services, we exchanged money and provided internet so seafarers could talk with their families.
Nowadays, communication with home can be done on ships equipped with Wi-Fi. The turnaround time of ships is shorter than in previous years, so fewer seafarers call in to seafarers' centres. What seafarers want more and more is access to supermarkets near to port, and shuttle services to get them there.
Hence the ministry to crew members is more and more by ship visiting. We have always worked closely with the other churches in ministry to seafarers in New Zealand, but now we are working even more as a team.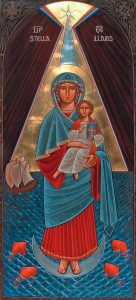 The British Sailor Society in the UK has provided an App that enables a global exchange of information in regard to the working conditions and the well-being of crew members.The App makes it possible to transfer information to ship visitors in the ship's next port of call, so that problems raised in one port may be dealt with in the next. In this way, conditions for seafarers can slowly be improved, and shipping companies made to face up to their responsibilities.
The Catholic Church, along with churches of other denominations, commemorates Sea Sunday in July each year to raise awareness about what is actually happening for seafarers and how we are responding to their needs through our work with them. Be aware of Sea Sunday in your local Church.
You can join us in this ministry by praying for seafarers, or as a volunteer in seafaring centres or ship visiting, or as a parish promoter, or by donor support for this ministry. To do so, contact Marist Father Jeff Drane on jeffdrane@aos.org.nz or phone him on 027 492 0250. Together we can make a difference in the lives of those who work at sea.
A prayer for those who work at sea

Almighty God, we give thanks for all those who work at sea. We acknowledge our need for the food and raw materials they transport. We recognise that they are sometimes in danger and their long absences involve sacrifices in their family life. Help us to show our gratitude not only in our words, but also in our actions, and in our prayers for them.
Through Jesus Christ our Lord. Amen.

Mary, Star of the Sea
Pray for them
Tagged as: churches, New Zealand Government, Seafarers Centre
Comments are closed.