July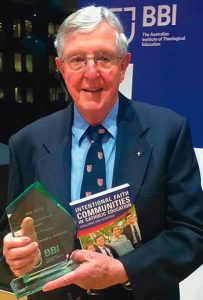 On 4 May, Fr Gerald Arbuckle sm received a 'Lifetime Achievement Award in Practical Theology.' The award, presented by the Broken Bay Institute, Sydney, Australia, acknowledges Fr Arbuckle's application of the Gospel to contemporary local and global cultures.
The award in Practical Theology is the first such award in Australia, given because Fr Arbuckle is recognised for his professional and high quality writing and lecturing both nationally and internationally, has made an extensive contribution to Practical Theology in many fields, and has written over twenty books on Practical Theology for local and international readers.
The award presentation coincided with the launch of Fr Arbuckle's latest book, Intentional Faith Communities in Catholic Education: Challenge and Response. 
Source: sm.org.nz