May
Congratulations to Louis Maite and Paul Molbwet, Marists who were ordained to the priesthood at Melsisi, Vanuatu, on 17 February. Louis completed nine years' formation at Marist College, Suva, in 2016, including two years at Teachers' Training College. Paul also completed nine years' formation, beginning in Marist College Suva, and finishing four years of studies at the Marist International Theologate in Rome in 2015. Both Louis and Paul are appointed to the Marist community in Port Olry, Santo, Vanuatu. Their primary commitment is teaching, and they will also be involved in Parish Pastoral work on weekends. They are pictured above with Bishop Bosco Baremes sm.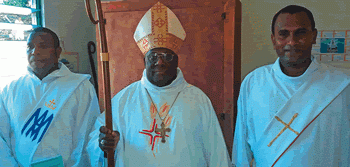 ---
For online news about the Catholic Church and subjects of interest to members of the Church in New Zealand, the Pacific, and throughout the world, go to
www.cathnews.co.nz   or to
www.cathnewspacific.com
where you can enrol to receive CathNews by email twice a week.