Can You Bear It?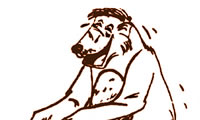 A pious man, who had reached the age of 105, suddenly stopped going to synagogue.
Alarmed by the old fellow's absence after so many years of faithful attendance, the Rabbi went to see him.
He found him in excellent health, so the Rabbi asked, "How come after all these years we don't see you at services anymore?"
The old man lowered his voice. "I'll tell you, Rabbi," he whispered, "When I got to be 90, I expected God to take me any day. But then I got to be 95, then 100, then 105. So, I figured that God is very busy and must've forgotten about me, and I don't want to remind Him!"
---
A job seeker filling out an application came to the question: "Have you ever been arrested?"
The applicant wrote: "No."
The next question was intended for those who had answered in the affirmative: "Why?"
The applicant answered it anyway: "Never got caught."
---
A large, two-engined train was making its way across America. While crossing the Western mountains, one of the engines broke down. "No problem, we can make it to Denver and get a replacement engine there," the engineer thought, and carried on at half power. Farther on down the line, the other engine broke down, and the train came to a standstill in the middle of nowhere.
The engineer needed to inform the passengers about why the train had stopped, and always trying to look on the bright side of things, made the following announcement: "Ladies and Gentlemen, I have some good news and some bad news. The bad news is that both engines have failed, and we will be stuck here for some time until the additional engines arrive. The good news is that you didn't take this trip in a plane!"