Can You Bear It?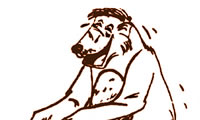 Sean is the vicar of a Protestant parish on the border of Northern Ireland and Southern Ireland, and Patrick is the priest at the Roman Catholic Church across the road.
One day they are seen together, erecting a sign which says,
"The end is near. Turn yourself around now, before it's too late."
As a car speeds past them, the driver leans out his window and yells, "Leave people alone, you religious nutters. We don't need your lectures." From around the next curve they hear screeching tyres and a big splash.
Shaking his head, Father Patrick says "Dat's da terd one dis mornin'."
"Yaa," Sean agrees, then adds, "Do ya tink maybe da sign should just say "Bridge Closed"?
---
After a meeting several days ago, I couldn't find my keys. I quickly gave myself a personal 'Pat Down'.
They weren't in my pockets. Suddenly I realised I must have left them in the car. Frantically I headed for the parking lot. My wife has scolded me many times for leaving my keys in the car's ignition.  She's afraid that the car could be stolen. As I looked around the parking lot, I realised she was right.  The parking lot was empty.
I immediately called the police. I gave them my location, confessed that I had left my keys in the car, and that it had been stolen.
Then I made the most difficult call of all to my wife: "I left my keys in the car and it's been stolen."
There was a moment of silence. I thought the call had been disconnected, but then I heard her voice. "Are you kidding me?" she barked, "I dropped you off!"
Now it was my turn to be silent. Embarrassed, I said, "Well, come and get me." She retorted, "I will, as soon as I convince this cop that I didn't steal your car!"
---
A Sunday school teacher was discussing the Ten Commandments with her 4th grade class.
After explaining the commandment to honor thy father and mother, she asked, "Is there a commandment that teaches us how to treat our brothers and sisters?"
Without missing a beat one little boy (the oldest of a family) answered, "Thou shall not kill."  
---