July
Pilgrimage Places in Aotearoa - New Zealand
Some of New Zealand's pilgrimage destinations: the tomb of New Zealand's first Catholic Bishop Pompallier at Motuti in the Hokianga; the National Shrine of St Peter Chanel at Russell in the Bay of Islands; Hiruharama (Jerusalem) up the Whanganui River; the statue of Our Lady of Kapiti in Paraparaumu; the tomb of Suzanne Aubert – Mother Joseph in Wellington, and the most recent; the shrine of Our Lady of the Assumption at St Mary of the Angels in central Wellington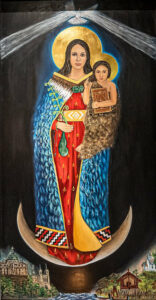 Pilgrimage -
a Christian Journey
The word 'pilgrim' comes from the Latin 'peregrinus', meaning 'foreigner' or 'stranger'. This is what all Catholics are: a people on a journey through this world, travelling to the Heavenly Jerusalem. In that journey towards heaven, we can make smaller journeys to sacred places, or 'pilgrimages'.
We travel in a spirit of penance; fasting and giving alms along the way. Perhaps we do so joyously, in thanksgiving for blessings received, or in a spirit of supplication for blessings desired. Or we wish to be blessed by visiting holy relics or ground hallowed by the Lord or the saints. Leaving behind what is comfortable to us and visiting a strange place is a way to get out of a 'spiritual rut'. We step outside of our normal routines, focused on the wrong things, or perhaps focused too much on otherwise good things. Pilgrimage is a way to 'lose' our lives for His sake.
Pilgrimage gave birth to many of our devotions. When Islam cut off access to the Holy Land, the Franciscans popularised the Stations of the Cross, a way of 'walking the steps' Our Lord took during His Passion without having to travel to Jerusalem. Labyrinths, set out on cathedral floors and grounds, are a similar way of meditative walking dating from the Middle Ages.
Marist Seminary Shifts Location
The Marist formation house in Auckland has moved. The Seminary's former buildings at Hopetoun Street were discovered to have serious structural problems. Fortunately and providentially, the Pious Disciples of the Divine Master have generously made their property available on loan to the Society of Mary for use as the seminary. 
The Marist Seminarians now just have to cross the road to attend courses at Te Kupenga - Catholic Theological College. The former seminary buildings are being surveyed with a view to deciding on their future.