Can You Bear It?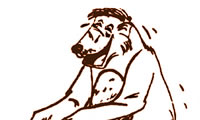 I was out walking with my then 4-year-old daughter. She picked up something off the ground and started to put it in her mouth. I asked her not to do that.
"Why?"
"Because it's been laying outside and is dirty and probably has germs."
At this point, she looked at me with total admiration and asked, "Wow! How do you know all this stuff?"
"Uh," I was thinking quickly, everyone knows this stuff, "Um, it's on the Mommy test. You have to know it, or they don't let you be a Mommy."
"Oh."
We walked along in silence for 2 or 3 minutes, but she was evidently pondering this new information.
"I get it!" she beamed. "Then if you flunk, you have to be the Daddy." 
---
Cop: You know how fast you were going?
Guy: Sorry officer, I was just trying to catch up with traffic.
Cop: What traffic? The road is empty.
Guy: Yeah, that's how far behind I am.
---
I lived in a houseboat for a while, and started seeing the girl next door. Eventually we drifted apart.
A man tried to sell me a coffin today. I told him, that's the last thing I need.
---
Quotes from Victor Borge 
One afternoon, when I was four years old, my father came home, and he found me in the living room in front of a roaring fire, which made him very angry. Because we didn't have a fireplace.
And now, in honour of the 150th anniversary of Beethoven's death, I would like to play 'Clear the Saloon', er, 'Clair de Lune', by Debussy. I don't play Beethoven so well, but I play Debussy very badly, and Beethoven would have liked that.
"I normally don't do requests. Unless, of course, I have been asked to do so." 
"I'd like to thank my parents for making this night possible. And my children for making it necessary."