The Cry of the Earth
Twenty-six years ago, we lived in Motueka and one of our favourite weekend outings was to take the 12-minute drive down to the Kumaras, a wilderness reserve on the Motueka foreshore.
Motueka sits to the side of Tasman Bay on the flood plain of the Motueka River, which emerges from the hills behind Motueka, runs across the back and down one side into Tasman Bay.
The foreshore is protected by a sand spit and, as well as The Kumaras, there's the saltwater baths and the wreck of the Janie Seddon.
A little while ago, the Tasman District Council released its 50-year sea rise predictions. This made climate change that much more real to me. Instead of a 12-minute drive it would be a short 3-minute stroll from our former home to the beach. However, it would also mean that, while the tip of the rusting superstructure of the Janie Seddon might remain visible, the spit, the Kumaras, the baths and sizeable parts of the town would become footnotes in Motueka's history.
Of course, this presupposes that increased heavy rain events didn't overwhelm the Motueka River's stop banks and inundate the flood plain first.
Of late, we've had a different kind of climate change inundation – the doom and gloom and the informative reports leading up to last year's COP26, the "last-chance meeting" to agree on how to keep global warming to no more than 1.5 degrees over pre-industrial levels. This March's International Panel on Climate Change report was no less sobering.
The science is clear. The planet is already hotter than it's ever been in human civilisation.
Until now, our civilisation has operated within a narrow, stable band of temperature. In the last 150 years, through the burning of fossil fuels and increased agricultural activity, we're now outside this band. It's at least 125,000 years ago since it was hotter than this, while the atmosphere has more heat-trapping carbon dioxide and methane in it than at any time in the past two million years.
Everything we've ever known has operated within climate conditions that we're rapidly leaving behind.
Laudato Si'
So, I was particularly pleased in my reading on climate change to come across Pope Francis's encyclical, Laudato Si', and his call for decisive action. Here was a man who had a handle on what was going on and didn't mince his words.
"The pace of consumption, waste and environmental change has so stretched the planet's capacity that our contemporary lifestyle, unsustainable as it is, can only precipitate catastrophes, such as those which even now periodically occur in different areas of the world. The effects of the present imbalance can only be reduced by our decisive action, here and now. "[Laudato Si', 161]
Last October, in a joint communique with other religious leaders, he appealed to the world's political leaders not to turn the garden we've inherited into a desert for the next generation, but to "take speedy, responsible and shared action to safeguard, restore and heal our wounded humanity and the home entrusted to our stewardship".
But what particularly resonated with me was a call the month before by Pope Francis, the Most Reverend Justin Welby, Archbishop of Canterbury, and Bartholomew I, the Orthodox Ecumenical Patriarch of Constantinople, "to listen to the cry of the Earth."
They concluded: "This is a critical moment. Our children's future and the future of our common home depend on it."
Archbishop Welby added, "We have in the last hundred years declared war on the creation."
In Laudato Si', Pope Francis described how we seem to be comfortable with being silent witnesses if we think that we can obtain significant benefits by making others, present and future, pay the extremely high costs of environmental deterioration. [36]
The challenge
In reading these documents I became very aware that these weren't just pleas to world leaders but also an instruction, in fact a challenge, to me as a Christian.
We can cope with sea level rise and maybe a little more heat and new diseases, but we can't reinvent insects, we can't control changing agricultural environments, we can't necessarily get drinking and irrigation water where we need it, and we can only plant so many trees.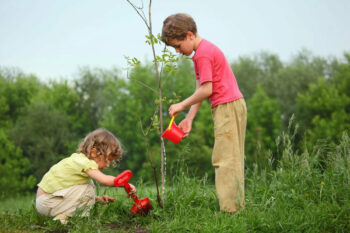 So how should I be responding?  Well, I can continue doing the things we all can easily do – recycling, making less use of plastic, repairing and re-using rather than tossing away, using less petrol, and so on.
But in many ways, re-usable shopping bags, for example, feel token when faced with the enormity of the problem. It's tempting to shrug shoulders and say I can't really make a significant difference.
We hate uncertainty
There are many studies that show that we hate dealing with uncertainty. We can cope with manageable risk, but random outcomes scare us. Our coping mechanism is to ignore the big things and focus on lesser matters. This gives us the illusion of control while we increasingly ignore the reality.
Pope Francis observed that, as often occurs in crises that require bold decisions, we're tempted to think that what's happening isn't actually all that serious:
"Such evasiveness serves as a licence to carrying on with our present lifestyles and models of production and consumption. This is the way human beings contrive to feed their self-destructive vices: trying not to see them, trying not to acknowledge them, delaying the important decisions and pretending that nothing will happen." [Laudato Si', 59]
We tend to think things will eventually get back to normal – after a war, a pandemic, a natural disaster. Unfortunately, we've reached the point from where there's no way back to normal. There are only unknown futures.
Lack of leadership
The problem, as Pope Francis sees it, is that we still lack the culture needed to confront this crisis:
"We lack leadership capable of striking out on new paths and meeting the needs of the present with concern for all and without prejudice towards coming generations." [Laudato Si', 53]
He sees the way forward to be through bringing pressure to bear on those who wield political, economic and social power:
"This is what consumer movements accomplish by boycotting certain products. They prove successful in changing the way businesses operate, forcing them to consider their environmental footprint and their patterns of production. When social pressure affects their earnings, businesses clearly have to find ways to produce differently." [Laudato Si', 206]
Environmental lead levels plummeted once we took lead out of petrol. We banned chlorofluorocarbons and the ozone layer is recovering. We did this despite the protests from industry. Alternatives were found, the industries survived, and planet Earth is better for it.
So, there is cause for optimism. There's nothing about the physics that says we can't solve this. Most of the solutions we need are already available to us. We have innovative scientists and entrepreneurs. Nothing is too expensive, despite cries to the contrary, because the expense of doing nothing would be to leave human civilisation as a very thin layer in Earth's sedimentary rock.
Call to action
Which brings me back to my original question: how should I be responding? Our religious leaders have made it quite clear. We need to listen to the cry of the earth, stop being silent witnesses, and stop ignoring the reality.
While we're all part of the problem, we're also all part of the solution. As individuals and as members of groups, whether it be of employees, employers, students, sports, or parishioners, we can apply the political and social pressure needed to force our politicians and business leaders to stop playing politics and jointly make the hard decisions, then legislate. Signing conference documents and making empty pledges is meaningless.
We know from recent experience that when we listen to the science and make and accept those hard decisions we get somewhere. It works. But when political smoke and mirrors take over and the science starts to be fudged by the decision-makers, things tend to come unstuck.
We need to challenge our leaders of every stripe at every turn and demand they make the necessary transformational changes happen and at pace. The call to action is in our hands. We can't sit on them any longer.
"A Christian who doesn't safeguard creation, who doesn't make it flourish, is a Christian who isn't concerned with God's work, that work born of God's love for us." [Pope Francis, Meditation, Vatican City, February 9, 2015] 
Ian Munro spent his working life engaged in secondary and tertiary education as a school counsellor, university liaison officer and NZQA manager and, for 21 years, also wrote a weekly newspaper column on parenting and family matters. He is a member of Tawa's Our Lady of Hope Parish which published this article in "Stories of Hope", on the parish website: ourladyofhope.org.nz.