Lessons from a Starfish
I was fascinated the other day watching a small starfish. I was on a wharf and looking down at it. The tide was retreating but the wind and wash was strong.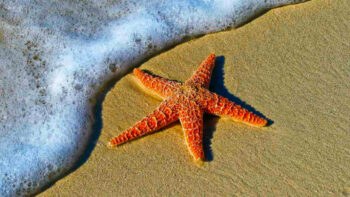 The starfish had discovered a large piece of squid we had been using for bait. It was about four times the size of the starfish. No doubt the starfish thought Christmas had come early at this large meal. However it instinctively knew the tide was going out and soon the squid would be beached. 
So it used some of its arms to grab hold of the squid. Other arms were used underneath to propel the bait further into deeper water and a safe eating place. The effort was amazing. Talk about two steps forward and one back. The starfish was straining and slowly, ever so slowly, moving into the sea. This despite the wash setting it back and the starfish having to try again..
Interesting, I thought, but there was a life lesson there for me. 
Later in the day I decided to take our rather rustic kayak out despite a Nor'wester looming. Yes, lifejacket and wetsuit. All went well, but coming home with wind behind me, suddenly I was 'whammed' by a vicious sideways gust. Over I went into the water!
My first thought was 'stay with the boat'! Which I did, also hanging on to a makeshift paddle. I was about 150 metres from shore. So I started to side swim, dragging the kayak and paddle. 
I thought, "I'm not going to make it to shore." However there was a bright yellow buoy to one side. So I slowly, ever so slowly, moved to it. Was the wind taking me further away? It did not seem in in any hurry to come closer! Little starfish, come and help! I made it to the buoy which I grabbed and rested. 
By luck a family were on a wharf about 300m away. I had passed them earlier. I shouted "Help!" And they heard and called back, "stay there." I certainly wasn't going anywhere! My attempts to right the kayak and bail it out had proved useless. 
While there were boats at that wharf, the family did not seem to have access to any of them and were running up and down the wharf. "C'mon," I said'!
They were waving towels to a point across the bay to attract the attention of people there. I learnt later those men wondered what on earth these teens were doing shouting and waving and for a start thought they were playing around. Eventually, though, they went over to the wharf and then saw me holding my oar up to signal them. Was I glad to see this flash boat come my way. A 200 horsepower engine!!
After some efforts they dragged the kayak on board and I too climbed up their stern access ladder. So a rather wet Phil turned up at our wharf, very grateful indeed. "These people deserve some Mission wine", I decided!
Oh, the starfish! A lesson indeed. My side swimming, dragging the kayak and slowly, ever so slowly moving to the buoy. Don't give up; keep cool, breathe..
Do you know, I did not pray at all in the water where I was for half an hour? Whoops! I had plenty of other thoughts: "do I leave the kayak? inflate my life jacket and swim to shore? Why don't those people on the wharf get cracking? etc, etc"!
No doubt my guardian angel was there. You know that beautiful prayer of our youth which has faithfully been prayed by Māori for years.
E te Anahera o Te Atua, i tukua mai hei kaitiaki mōku,
Whakamāramatia ahau, tiakina, ārahina mā tōu painga āanei,
ā, whakaorangia i te haora o tōku matenga rawa. Amene
Angel of God, my Guardian dear,
to whom God's love commits me here.
Ever this day be at my side,
to light and guard,
 to rule and guide.
[Keep me safe till the hour of my death]. Amen
Yes, my prayer since has been much more poignant!