The Beginnings of the Catholic Church in Tonga
Part 2 - Based on the writings of Fr Joseph Deihl SM, adapted by the Fr Kevin Head SM
[Italics are used where Fr Deihl is quoted directly and at length.]
Despite the promising beginnings of the Church in Tonga, the ministry of Fr Chevron and Br Attale would be beset by many difficulties. Of Bishop Pompallier, Fr Deihl wrote, "His failure to appreciate the situation together with the silent submission of Father Chevron prepared the way for much suffering and unnecessary hardship." The missionaries were completely dependent on the people among whom they lived.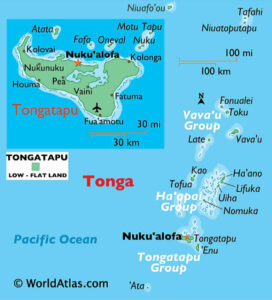 The first problem was hunger, when those who objected to the Catholic missionaries' presence destroyed Pea's crops, reducing the village to famine rations. And since they were so poor, the missionaries were said to be no better than the beachcombers who had begun to be a nuisance in Tonga.
As well, Moe-aki, the leader in Pea, had expected protection from France, as his enemies had enlisted the help of the British. Such protection did not eventuate and the missionaries bore the brunt of the locals' disappointment. Fr Jérome Grange's (1807-1852) arrival from New Zealand with Bishop Pompallier in October 1842 made no difference to the situation.
But, Fr Deihl wrote,
Those first years of suffering were not idle years. Many pagans joined in with some one hundred and fifty catechumens to erect a church at Pea. The best of native art was used in its construction, and it was blessed on 12 February 1843. Across the Bay from Pea was the town of Mua, residence of the Tui-tonga, the spiritual king of Tonga. Lau-fili-tonga was the thirty-ninth holder of this title, and while through most of Tonga, with paganism abandoned, his sacred person was no longer revered as divine, in the immediate vicinity of Mua his influence was still very great. The conversion of Lau-fili-tonga became therefore, one of the cherished hopes of Father Chevron. That the missionary had not come to him first, instead of to Moe-aki, was a sufficient reason to the wounded pride of the Tui-tonga to turn a deaf ear to every entreaty. Fr Chevron was to learn through bitter experience how excessive could be the pride of Tongan chiefs. When the announcement was made of the solemn baptism of thirty catechumens among whom was Moe-aki, this chief suddenly declared that he would wait -- it was Moe-aki who was being baptised, the others did not count. On another occasion, angered against the Fathers who had felt it necessary to oppose his authority, he shouted to the assembled chiefs, 'In what do these whites meddle who have been cast by the waves upon my land? Who lodges them if it is not I?' Infinite patience and tact were required in such situations: only when it was necessary to safeguard the essential rights of the church did the Fathers show themselves uncompromising.
Gradually, in the villages of Maofaga, Hahake, Holonga and Folaka, people took an interest in Catholicism. The fortified village of Houma was across Tongatapu to the west. Fr Chevron was received hospitably when he first went there, but a couple of months later, after the Catholic faith had been slandered by the Church's enemies, he found that he was unwelcome. He arrived back in Pea starving and weak.
When Bishop Guillaume Douarre (1810-1853) landed in Tonga in November 1843 with missionaries bound for New Caledonia, the missionaries were in a dreadful state, dressed in rags with no shoes, malnourished and exhausted. Fr Gilbert Roudaire (1813-1852) wrote to Fr Jean-Claude Colin, the Superior General of the Society of Mary, "You have poverty in France, but whatever may be the depth of it, it does not equal what they have endured here."
In 1843, Pierre Bataillon (1810-1877) was ordained bishop in Wallis. He was the first Vicar Apostolic for Central Oceania, and visited Tonga in his official capacity in July 1844. His intention was to station Fr Philippe Calinon (1806-1877) at Mua. His intention was rebuffed by Lau-fili-tonga, the Tui-tonga: "we have no need of the religion of strangers, we wish to live to the end in that of our ancestors." Bishop Bataillon was so offended by the "direct and studied insult" from the Tui-tonga that he left without taking the cup in the kava ceremony which was taking place. When he called at Nukualofa where Alea-matua, Taufa'ahau and his warriors and three Methodist missionaries lived, Bataillon found the village empty.
Even though Frs Chevron and Grange and Br Attale endured great suffering in their first years in Tonga, there were also some successes. The number of those wishing to become Catholic increased, Baptisms and first Holy Communions took place, and Bishop Bataillon administered Confirmation. Fr Grange wrote to Fr Colin: "We are sunken in an abyss of misery, but we are the disciples and workers of him who knows how to make our joy superabound in the midst of tribulations." Fr Chevron wrote, "Without a particular assistance of God, we would not be able to bear up."
Fr Deihl wrote,
In October 1845, Alea-matua, the Tui-kana-kupolu died. There was little doubt as to his successor, the presence of Tuafa'ahau's warriors from Ha'apai and Vava'u ensured the results, and on 4 December 1845, Taufa'ahau as George Tupou I, assumed the title of King of Tonga. So, in the midst of destitution dawned a bloody morrow; as sole ruler of Tonga, George Tupou would certainly wipe out the dishonour of his first defeat at Pea. There remained to the missionaries the sole support upon which they had always counted -- God and the Queen of Heaven. The Queen of Oceania was Mary to them now, and they felt confident of her protection in their perilous hour of need.
Source: Marist Messenger
February 1934
___________________________________
Tonga Volcano and Tsunami Appeal
As this edition is being prepared, the Kingdom of Tonga  suffered a volcanic eruption and subsequent tsunami. We encourage our readers to prayerfully support the people of Tonga and to consider making a donation to Caritas' Tongan Appeal.
Donations can be made to Caritas online through the Pacific Relief Fund (www.caritas.org.nz/donate-online) or via their bank account 03-0518-0211216-00
(please include first & last name and put Tonga as the code).