Fr Barry John O'Connor SM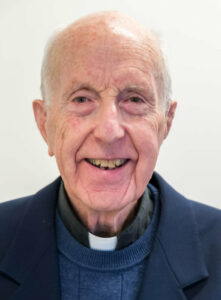 Born: 1 May 1939 in Palmerston North
Professed: 26 January 1959
Ordained: 2 July 1963 by Archbishop McKeefry in Hawera
Died: 9 November 2021 in Hutt Hospital
Barry lost a good part of his hearing when he was young and by the time he had his first hearing aid he had taught himself to lip read -- a very handy skill for a teacher, he would say with a wry smile!
Barry and his brother, Fr Tom, went to Loreto, a primary school for boys run by the Sisters of Mercy. After Loreto, Barry wanted to go to St Bede's, but medical advice recommended a dry, cold climate, so Barry went to St Kevin's College in Oamaru. Barry was not impressed at first but he did flourish at St Kevin's.
Barry's first appointment after ordination was to St Patrick's College, Wellington, which caused great joy to our father who was an old boy. One of Barry's first requests was for a pair of binoculars to watch the cricket at the Basin Reserve from his window. He also spent many Friday nights assisting the indoor basketball coach. I remember him telling me once, "it keeps the boys off the streets on a Friday night, you know." Also during this time, he attended Victoria University gaining his BA – they were busy times but he enjoyed them. After St Patrick's town he was appointed to St Patrick's Silverstream.
The 1998 Education Service and Project Awards ceremony of the Multi Serve Education Trust, had this to say: "Father Barry O'Connor is described as an educationalist and a man of unassuming humility. He devoted his life to the priesthood and to education. He taught in a number of Catholic schools and in each gained the immediate respect and support of boys, staff members and school communities."
He was appointed Rector of St John's College in Hastings in 1987. During this time, Barry led in formulating a plan for the development of the school buildings and the school roll. He began an extensive visitation programme of parishes, schools and families to promote support for the school.
A long-delayed building programme suddenly started to happen, and during Barry's time as Principal the whole school was upgraded. A much-needed gymnasium was built first, followed by administration and music blocks, science laboratories, technology suite and a modernised library. The Gymnasium – Culture Centre bears Barry's name.
Above all, his interest and energy were channelled into the spiritual and pastoral needs of the students. Father Barry as Principal always treated his charges with reverence, dignity and respect. He developed in all a sense of pride in their college and in their own lives.
He sought out and comforted the lost boy, the lonely one. He was the thorough Marist educator – determined to elevate the whole man, personally addressing an individual, "You really can do better than that, I think." Be it behaviour, classwork, rugby cricket, basketball.
His determination showed in his efforts to return to work after a car accident, using the prescribed exercises to regain his confidence and balance. His determination was rewarded and he became well again.
After leaving St John's, Barry continued to work hard wherever he was asked or saw a need, firstly at Hato Pāora College and later in Ōtaki and Wairoa parishes.
His last days were spent at Marian Court where he cared for the aged and the Sisters of Compassion. He was always at their service, always ready to administer the Sacraments. He also appreciated the care and help he received from the Sisters and staff.
A few weeks ago, he warned Tom and me that he wouldn't be home for Christmas because he would be busy helping in parishes in the Upper Hutt. Barry was a hard worker, a holy man, a quiet man -- and that's the way he died.
Thanks to Fr Barry's sister Mary and to Fr John Walls SM, on whose eulogy and homily this tribute is based.
Appointments
1964 – 1975: St Patrick's College, Wellington
1965: Part-time, Marist Messenger
1976 – 1987: St Patrick's College, Silverstream
1982 – 1987: Deputy Principal
1985: Studies in St Louis, U.S.A. (M.A. in Religious Studies)
1986 – 1987: Vice-Superior
1988 – 1998: St John's College, Hastings - Rector, Vice-Superior; then Superior at Woodstock Ave; 1994 – seriously injured in a car accident; August 1995 Returned full-time to St John's as Rector
1998: St Mary's Manchester Street, Christchurch
1999 – 2001: St Brigid's Parish, Feilding; 2000: Superior
2002: St Mary's Parish, Taradale
2003 – 2010: Ōtaki, 2004: Parish Priest
2011 – 2015: Marian Court, Superior
2016: Maryknoll, Greenmeadows
2017: St Anne's Parish, Manurewa
2018: St Peter's Parish, Wairoa
2019: Marian Court with some chaplaincy duties at the Home of Compassion