Who is my Neighbour?
Some friends of mine have recently moved to a new neighbourhood. Up until then, they, and I, had been part of a group that met monthly at the home of a very hospitable couple, for cheese scones and chat. A great way to get to know neighbours and make new friends. Knowing who needed extra care. Sharing the ups and downs of everyday life. The other day I visited my friends and was delighted to hear that they had started a similar group for those who live near to them – their new neighbours. I suspect the cheese scones will be replaced by their own speciality, banana cake.
The parable of the Good Samaritan teaches us that even those we do not naturally associate with, are in fact, our neighbours. Even people we resent, or find difficult, or are seen as our enemies. To these, we know that we must show mercy. But what of our obvious neighbours? Those who live close by and probably share our values and view of life and maybe each other's vegetables and fruit? Do we open ourselves to them? Do we remember to check up on them? Do we know if they are lonely or worried? Have we remembered the great commandment to "love your neighbour as yourself"?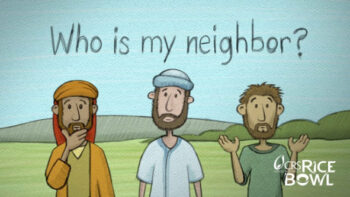 I am so grateful to my friends for reminding me that small gestures can bring us together, that banana cake and banter can be a channel for loving our neighbour.