Turning Shame into Joy for Mothers in Nigeria
Could anything hurt a woman's spirit more than to be leaking and dribbling urine or bodily waste?
Obstetric Fistula occurs when the baby's head puts too much pressure on the mother's maternal tissues, cutting the blood supply. The tissue dies and leaves a hole, or fistula, causing urine and faeces to leak uncontrollably.
The main contributors to fistula in developing countries are extreme poverty, the low status of women and girls, and the under-resourced health system. Malnutrition is also a factor and contributes to stunting, when the female skeleton doesn't fully mature, leading to birthing difficulties like fistula.
An estimated 2 to 3.5 million women with obstetric fistula live in the developing world, and according to the World Health Organisation between 50,000 to 100,000 women worldwide develop obstetric fistula annually. Globally, for every woman who receives treatment, at least fifty women go without.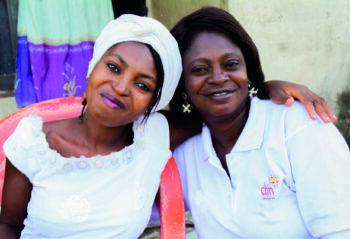 Currently, new cases of obstetric fistula are occurring faster than the treatment of the existing ones, resulting in a huge backlog of women requiring fistula repair. Women experience long waits due to very few hospitals being capable of providing treatment, and there are only a few trained health professionals able to provide quality clinical care for fistula patients.
Women living with fistula are often excluded from daily activities. Husbands frequently leave them, and there are many cases of women being pushed out of their village because of their incontinence. They become isolated, stigmatised, and often are severed of all means of livelihood. Many women live with the condition for decades, unable to access vital medical intervention that can transform their lives. The condition of obstetric fistula can only physically afflict women but its consequences impact the entire family. Obstetric fistula devastates the lives of its victims and leads to extreme socio-economic deprivation.
Nigeria is placed among the top 10 most dangerous places for a woman to give birth and accounts for 40% of fistula cases worldwide. This is the highest of any country globally, which is largely due to the lack of medical care during labour. Sadly, these women endure the scourge of fistula for life unless they are told of corrective surgical repair, which can be provided free of charge through cbm-funded partner hospitals.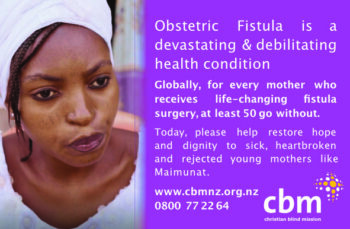 Through the generosity of cbm supporters, Maimunat (pictured below) was fortunate enough to receive free life-changing fistula surgery at a cbm-funded partner called Survive Fistula Health Foundation (SFHF). Maimunat's labour was very difficult and after hours of being in labour, it just stopped. Her baby's head was left wedged tightly in Maimunat's birth canal. No blood could reach the thin wall of flesh separating her birth canal from her urinary tract, causing a small hole. Fortunately, Maimunat was found by cbm-funded SFHF and was able to undergo life-changing fistula surgery.
cbm, also known as Christian Blind Mission, is an international Christian development organisation, whose mission includes delivering life-changing surgeries to those disadvantaged by poverty and disability. To find out more about our work, visit www.cbmnz.org.nz
Dr Murray Sheard received his PhD in Ethics and Philosophy from the University of Auckland. He has worked in international development for over 15 years and is the Chief Executive Officer of cbm New Zealand. 
Tagged as: cbm, Christian Blind Mission, fistula, Nigeria
Comments are closed.