MM 50 Years Ago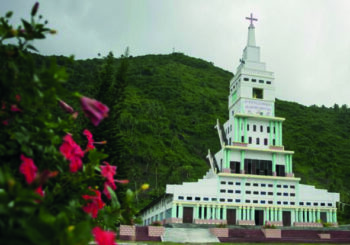 Futuna pilgrimage at last
Only a few individual pilgrims from NZ have ever visited the Shrine of St Peter Chanel on Futuna Island in the Pacific. The most celebrated was the late Archbishop Francis Redwood SM, who had to break the lock to enter the then deserted church, and the latest was Mrs Ida Corrigan, well-known to Marist missionaries, and now back at her home in Paekākāriki.
The French authorities have lately cleared away palm trees and levelled an excellent airstrip. It is now possible to fly directly from modern Fiji. The larger island of Wallis, where Bishop Darmancier SM resides, with its facilities for travellers, is forty minutes more flying time to the north of Futuna, but it is not expected for pilgrims to call there.
Just lately, Mr Philip Lawton, manager of the Franciscan Travel Service in Auckland, made a fact-finding journey to finalise arrangements for the first NZ Pilgrimage to the Shrine.  
Fr Maurice Mulcahy SM, August 1971