Fr Ipolito Bakaua Teburea SM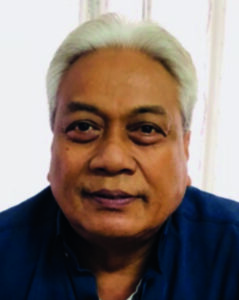 Born: 11 August 1958, Rabi Island, Fiji
Professed: 2 January 1985
Ordained: 8 December 1989
Died: 5 March 2021 in Suva, Fiji
Ipolito Bakaua Teburea was the son of Mr Neneva Teburea and Mrs Maria Aron Teburea of Rabi Island, Fiji. He completed his primary education in the Banaban primary school in Rabi and in the Wairiki Primary at Taveuni from 1965 to 1970. His secondary education was at Wairiki Secondary School and St John's College, Cawaci, from 1971 to 1977.
Initially, he wanted to be a farmer, so he attended the Voluntary Agricultural course in the Marist Rural Training Centre, Tutu, Taveuni from 1978 to 1979. It was during this time that he felt the call to the Marist Religious life. From 1982 to 1983 he completed his philosophical studies in the Pacific Regional Seminary before entering the Novitiate at Tutu in 1984. He was professed on 2 January 1985 at the Holy Eucharist Parish, Laucala Bay. He then returned to the seminary where he completed his theological studies in 1989. 
On the feast of the Immaculate Conception in December 1989 he was ordained to the priesthood at his home island of Rabi by the late Archbishop Mataca.
Fr Ipolito's appointments and ministries were as follows:
1987: Pastoral Year at St John's College, Cawaci, Ovalau
1990 – 1991: Teacher at St John's College, Cawaci
1992 – 1994: Catechetical Centre in Buma, Malaita, Solomon Islands
1995 – 1996: Sacred Heart Parish, Levuka, Fiji
1997 – mid 1998: Mt St Mary's Parish, Nadi, Fiji
Mid 1998 – 2001: Teacher at Chanel College, Moamoa, Samoa
2002 – 2006: Teacher at St John's College, Cawaci
2007: Marist Regional House, Varani St, Suva
2008 – 2012: Parish Priest of Mt St Mary's parish, Nadi
2014: Assistant Priest at Holy Eucharist Parish, Laucala, Fiji
2013: Renewal at East Asian Pastoral Institute, Manila, Philippines
2015 – 2016: Parish Priest of Holy Eucharist Parish, Laucala
2017 – 2021: Retirement due to ill health at Varani St, Suva
Fr Ipolito underwent three heart bypass operations. On the evening of the 5 March 2021 he collapsed and was rushed to the hospital and was pronounced dead on arrival. Ipolito died in his sixty-third year after thirty-six years of Marist life. May he rest in peace.
Source: Fr Aisake Vaisima SM