Re-creating the Hermitage
May, 2006:  Brother Sean Sammon, Superior-General of the Marist Brothers, smiled across the table. "So there you have it, Monsieur Johan. We want you to be the architect to restore the Hermitage, our first Mother House. And not only to restore it, but to breathe new life into it. You are an architect, but more than that, you are truly Marist. You know us, you understand and appreciate us and our spirit. You have been there, you have seen the place.
 "It is where we began, back in 1824, our Founder, Father Marcellin Champagnat, setting up a home and training place  for the first  young Marist Brothers, men who would  provide a Christian education for the young people of the villages around St. Chamond. Unfortunately, the years haven't treated the original buildings too kindly and it needs new life. Can you do that for us?"
Johan nodded. "Of course I can rebuild and replace the buildings. Any competent technician can do that. But I have the feeling that you want something else – something more than just a restoration project."
"Exactly! This is a sacred place for us – it has been the Mother House of our Institute, it holds our history. Embodies our spirit. It was a place where our men were trained, formed to be Mary's apostles, a place to come back to refresh, regroup, find again the strength and drive to return to launch out again into the work so needed for our young people, work that would empower them, give them purpose, release their potential."
"
And you want us – me and you – to re-create those dynamic beginnings?"
"There are two main ideas that we would want to come through. First, to make live again this place where Marcellin and our first men lived and worked. Their charism, our gift to the Church and world, has to be expressed in the structures, the interior and exteriors of the place. It is to be much more than a museum or a hotel… 
"A living, breathing, pulsing place .. speaking of, presenting the past, but a past that still lives .. yes, I am beginning to see...
"Yes, yes, it was that living centre in the Founder's time. Expanding and growing as numbers multiplied. New buildings added, old ones refurbished. To the 1824 buildings a new wing, a new chapel added in 1835, again in 1877. And the home he built, became his resting place when, in 1957, his remains were enshrined in a new side altar."
"And the second main idea, Brother? Let me see the extent of your dream?"
"We want this house, 'our home' to be a living centre, a place that breathes the Marist spirit, the spirit of Mary and Marcellin, a place where new life, new vision, new enthusiasm is breathed in. Not in long conferences and lectures, but something of what Jesus was saying when he replied to the Pharisees 'the very stones will cry out.' We want to provide a spirituality that meets the needs of each person, of each group, that is up-to-date, a spirituality that challenges, encourages, enlivens."
The architect sat silent, his mind spinning ideas and possibilities. This was not a monument he was asked to create, a memory to honour, or a history  to write in stone. 
"If it is to be such a living and vital  plan, it needs more than buildings, it needs people, Marists ..." 
"Yes, yes, of course !" broke in the Brother. "And that is just what we plan to do. To establish here a community of Brothers and of people imbued with the Marist spirit, men and women steeped in the spirituality of the Marist heritage. To provide facilities for pilgrims to stay here for some time, time for them to draw from this place, and these people, Marist insights, Marist enthusiasm, Marist  concern for our world, our young people, new replies to the emerging needs of today and tomorrow."
Johan nodded slowly. What a challenge, to breathe life back into silent rooms, echoing corridors, empty chapel, crumbling walls, peeling paintwork. To take up again what Father Champagnat had begun here.
September 2010. Johan paid only half-attention to the  speakers at the inauguration and blessing of the completed work.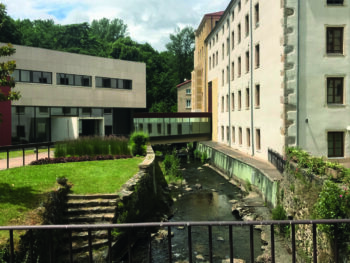 His mind was on the words that Brother Sean had shared with him that morning. "I was up this morning at 3.00 o'clock to walk through the buildings s and the valley. And I could feel Marcellin walking with me, as urgent, as dynamic as when he began the work here, back in those distant days. His is a living presence here. We have brought the valley alive again as it was in his day. Buildings built to welcome, to reveal a past and a present of loving concern and dedicated outreach to all who come – the Brothers, those who work with us, pupils, families, pilgrims from far and near, welcomed by the community - men and women, Brothers and priests and lay people from, at present, nine different countries, alive with the spirit of Mary, with her loving concern. As once said of Jerusalem, "The very stones will cry out" (Luke 19:40) and today what we have rebuilt is eloquent in its message."