Fr (Michael) Vincent Curtain SM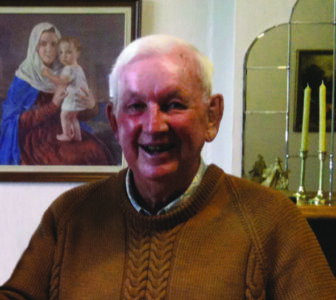 Born: 4 July 1932, in Greymouth
Professed: 7 February 1954
Ordained: 20 July 1958
Died: 20 September 2020 in Christchurch
Michael Vincent Curtain was born in Greymouth in 1932. His family moved to Motueka and then to Nelson, where Vince attended St Joseph's Primary School. His secondary education was at St Patrick's College, Silverstream, where he was head boy in his final year. He entered the Marist seminary at Greenmeadows in 1952 and was ordained to the priesthood in 1958.
Fr Vince worked in Marist colleges for thirty years as a teacher and rector, and then for thirty more years in parish ministry. He retired to the St Basils Court community in Sydenham in 2018. In December last year Vince transferred to the Nazareth Community of Care. We are especially grateful to the staff at Nazareth for their kindness to Vince and their special care of him in his final illness. 
Vince was always very devoted to his family. I know he looked forward to holidays and golf with his brother Bill and his sisters Marcia and Ursula were on the staff with him at Silverstream. His affection for Marcia and Ursula may have sometimes been understated, but you were never in doubt about his loyalty and devotion to them and to his family. In fact, loyalty and devotion were absolutely key characteristics of how Vince did life.
At St Bede's, Vince taught Chemistry and Geography for twelve years. He was both dedicated as a teacher and demanding of his pupils. He was also an accomplished sportsman and at St Bede's he coached rugby and cricket, in his final years being coach of the 1st Xl and 1st XV.
All of us who taught at St Bede's had nicknames, mostly quite uncomplimentary! Vince was known as 'Boss'. It was a more respectful nickname than most. I think the name captured Vince's sense of authority and the boys' appreciation and awareness of his commitment as teacher, disciplinarian and coach. It has a ring of respect and affection, both well-earned and well-deserved.
Vince went on from St Bede's to be rector at Hato Pāora College and St Patrick's College Silverstream and Senior Master at St Pat's Town.
He then began his thirty years of ministry in parishes, mostly in Timaru and Akaroa, and then, here in Addington.
I think it was a huge adjustment for Vince to move from the brutal hurly-burly of college life to pastoral ministry in parishes. Vince was always a man of great kindness and compassion and he brought to his pastoral work a spirit of generosity and hospitality, as well as service. But Vince was also very aware of and committed to the expectations and demands that he firmly believed were required of him by the Church as a priest and by the obligations of religious life. The responsibilities he carried always weighed heavily upon him.
But he also had a soft heart. He was thoughtful of others,  generous and aware of his own humanity. Thank God he had that addiction to his beloved pipe! Smoking must surely have helped him relax.
Many of us are deeply indebted to Vince for what he contributed to our lives. I am one of those, and am grateful for his friendship and guidance. In saying goodbye to him today, I pray that he may now be at rest with the Lord whom he served so faithfully. I pray for him with Jesus' words in Matthew's Gospel, "Well done, good and faithful servant. Come and join in your master's happiness".
Sincere thanks to Fr James Dooley SM for this summary of his eulogy.
Appointments
1959 St Patrick's College, Silverstream
1960-1971 St Bede's College, Christchurch
1972 -1977 Hato Pāora College, Rector and Superior
1978 -1980 St Patrick's College, Wellington
1981-1986 St Patrick's College, Silverstream, Rector and Superior, 1981 - 1985
1987 -- September 1988 Sabbatical in Israel and Texas
1988 -- September 2000 Sacred Heart Parish, Timaru, Assistant
2001 January – April Our Lady of Lourdes, Palmerston North
2001 May-December Sacred Heart Parish, Timaru, Assistant
2002 January -- 2003 June Kapa'a, Hawai'i Parish, Atlanta Province
2003 August -- 2006 Sacred Heart, Timaru Parish, Assistant
2007-2012 St Patrick's Parish, Akaroa, Parish Priest
2013-2017 Sacred Heart Parish, Addington, Assistant
2018-2019 St Basils Court, Christchurch
2020 Nazareth Community of Care, Christchurch