September Saints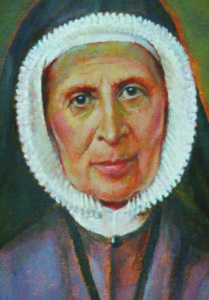 St Thérèse Couderc
(1805-1885)
Marie-Victoire Couderc was born in Le Mas. She was the fourth of twelve children of farmers Claude Michel Corderc and Anne Méry. In her childhood she attended Mass twice a week. She made her First Communion at Pentecost on 15 May 1815.
In 1822, her parents sent her to a boarding school at Vans and she remained there until 1825 when her father withdrew her to attend a local school. She entered the novitiate with the Sisters of Saint Regis, a teaching order in Lalouvesc, took the name Thérèse and made her perpetual vows in 1837. Sent to a mountain hostel for women pilgrims at the shrine of St John Francis Regis in Lalouvesc, it became a successful retreat house under her guidance.
Thérèse co-founded the Sisters of the Cenacle with Father Terme in 1826 and became its superior in 1828. Her aim was to provide women with a place for recollection in solitude, prayer, and meditation. When the motherhouse was established, she became Superior General. After Fr Terme's death in 1834, the order split into the Sisters of Saint Regis, who retained their teaching ministry, and the Congregation of Our Lady of the Cenacle, which continued its retreat ministry with the help of Jesuit priests. This resulted in financial hardship for the sisters. Although she was not at fault, Thérèse accepted responsibility, which led to her being removed from her office by the bishop and replaced by a new novice as the 'Foundress Superior'.
From 1842, Thérèse was sent to various houses in France. Always respectful and obedient, she understood deeply the value and joy of self-surrender to God and lived it to the full through all the false accusations and humiliations to which she was subjected. She died on 26 September 1885.
St Thérèse, teach us to accept the will of God in our lives.
Source: https://en.wikipedia.org/wiki/Th%C3%A9r%C3%A8se_Couderc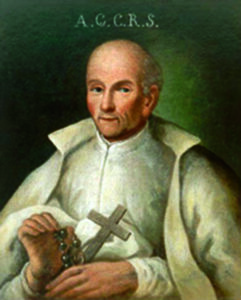 Blessed Stanislaus Papczyński
(1631-1701)
Jan Papczyński was born in Podegrodzie, Poland. Initially, he had difficulty with his studies but persevered, graduating from both Piarist and Jesuit Colleges.
In 1654 he entered the Piarist Order and took the name of Stanislaus of Jesus-Mary. He made his religious profession in 1656 and was ordained a priest on 12 March 1661. While still a seminarian, he taught rhetoric. After his ordination he was valued as a confessor and for his sermons to the intellectual elite. Despite this apparent success, Father Stanislaus experienced an uneasy period concerning his vocation, a time he referred to as "a lengthy martyrdom".
Father Stanislaus had a dream – to found a religious order consecrated to the Immaculate Conception. In 1669 he requested an indult and made an oath in the presence of his Piarist Superiors: "I offer and consecrate to God, as well as to the Mother of God, the ever-Virgin Mary conceived without sin, my heart, my soul and my body, leaving absolutely nothing for myself. I vow to serve them zealously, in chastity, to the end of my life, in the Society of Marian Clerks of the Immaculate Conception, which by the grace of God I wish to found".
His trust in God was rewarded by support from a local Bishop and in September 1671 he took the white habit in honour of the Immaculate Conception and prepared the future Order's Rule of Life. Its work was to spread devotion to the Immaculate Mother of God and to assist souls in purgatory, especially those who were unprepared for death. Gradually, the lifestyle of the Order became more apostolic, with emphasis on teaching the truths of the faith.
After initially establishing a spiritual affiliation of the Marian Clerks with several other Orders, the Polish Order of Apostolic Right was approved. Stanislaus pronounced his solemn vows in 1701 and then received the profession of the other Marians. Having completed the work God entrusted to him, he died just a few months later.
Blessed Stanislaus, help us to be single-minded in our vocation.  
Source: Internet: various