In praise of Pope St John Paul II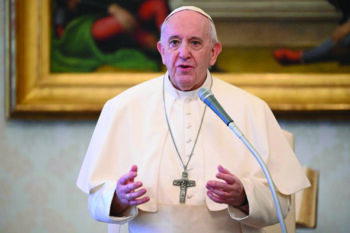 On 18 May, Pope Francis celebrated Mass in the chapel housing John Paul II's tomb inside St. Peter's Basilica to mark the centenary of his predecessor's birth.
Today, we can say that 100 years ago, the Lord visited his people. He sent a man, he prepared him to be a bishop, and to guide the Church. Remembering John Paul II, let us remember this: the Lord loved his people, the Lord visited his people, he sent a pastor.
And he was never detached from his people, but always close to them. He went to find the people. Throughout the whole world, he went to visit his people, searching for his people, making himself close. Saint John Paul II gave us an example of this closeness, to the great and the small, to the close and the far away.
Source: Elise Ann Allen, Crux Now
Prayer and the Mystery of Creation
The beauty and mystery of Creation generates in our hearts the first movement that arouses prayer (Cf. Catechism of the Catholic Church, 2566). So says Psalm 8: "I look up at your heavens, shaped by your fingers … what are human beings that you spare a thought for them?" (vv. 3-4). The praying person contemplates the mystery of existence all around … and in the whole universe, the human being is the only creature aware of such a profusion of beauty. A small being that is born, dies, is today and tomorrow is not, is the only one aware of this beauty. We are aware of this beauty!
Our greatness is infinitesimal if compared to the universe's dimensions. Our greatest conquests seem but very little . . . But we are not nothing. In prayer a sentiment of mercy is affirmed overpoweringly. Nothing exists by chance: the secret of the universe lies in Someone's benevolent gaze, which crosses our eyes. Psalm 8 v.5 affirms that we are made little less than God, crowned with glory and honour. Our greatness is in our relationship with God. By nature, we are almost nothing, small, but by vocation, by calling, we are children of the great King!
If the story of life, with all its bitterness, sometimes risks suffocating the gift of prayer, it is enough to contemplate a starry sky, a sunset, a flower, in order to rekindle the spark of thanksgiving.
Men and women who pray know that hope is stronger than discouragement. They believe that love is more powerful than death and that one day it will certainly triumph, even if in times and ways that we don't know. Men and women of prayer bear reflections of flashes of light on their faces, because even in the darkest days, the sun doesn't cease to light them up. Prayer illumines you -- it illumines your soul, it illumines your heart and it illumines your face, even in the darkest times, even in times of great sorrow.
We are all bearers of joy. Have you thought of this? That you are a bearer of joy? We are all capable of bringing joy. This life is the gift that God has given us … we praise God, happy simply to exist. We look at the universe, we look at the beauties and we also look at our crosses and we say, "But you exist. You have made us so, for yourself".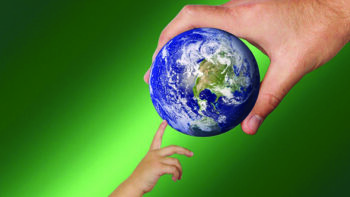 We are the children of the great King, of the Creator, able to read his signature in all of Creation, that Creation that we do not protect today. God made creation out of love. May the Lord make us understand this ever more profoundly and lead us to say "thank you", and that "thank you" is a beautiful prayer.
Source: General Audience, 20 May 2020, Zenit
Special Year of Laudato Si'
Thanks to the initiative of the Dicastery for the Service of Integral Human Development, the Laudato Si' Week, which we just celebrated, will blossom in a special anniversary Year of Laudato Si', a special Year to reflect on the Encyclical, from May 24 of this year to May 24 of next year.
I invite all persons of goodwill to adhere to it, to take care of our common home and our more fragile brothers and sisters.
It will be good to pray the prayer dedicated to this Year.   
Source: Regina Coeli Address, 24 May 2020, Zenit
Prayer for the Special Year of the Anniversary of Laudato Si'
Loving God, Creator of Heaven, of earth and of all that they contain, open our minds and touch our hearts,
so that we can be part of Creation, your gift.
Be present to the needy in these difficult times, especially the poorest and most vulnerable. Help us to show creative solidarity in addressing the consequences of this global pandemic.
Make us courageous in embracing the changes geared
to the search for the common good.
Now, more than ever, may we be able to feel that
we are all inter-connected and interdependent.
Make sure that we succeed in listening and responding
 to the cry of the earth and to the cry of the poor.
May the present sufferings be the birth pangs
 of a more fraternal and sustainable world.
We pray to You through Christ Our Lord, under
the loving gaze of Mary Help of Christians. Amen.