Helping Children Make Sense of Unanswered Prayer
A child hears her parents arguing loudly. One threatens divorce. The other begins to cry. Before sleeping that night, the child prays asking God to keep her mother and father together. A month later they separate.
A single mother of two early school children is financially strapped. She is concerned about being downsized from her position. Her children, aware of her concern and stress pray asking God to "let mom keep her job". A few weeks later she is downsized and unemployed.
Like adults, children are pained and puzzled when their prayers are unanswered. Unlike adults, they may not always express their disappointment or know how to talk it out. Yet, if they are to grow and evolve spiritually, they must be helped to deal with this issue. Here are some ways of helping children make sense of unanswered prayer.
1. Begin with scripture, especially the Psalms
Children grow up learning and loving bible stories. Scripture is a good starting point, especially the Psalms.
David, the man children know as the slayer of Goliath, when it appeared his prayers were not answered, begins Psalm 13 this way: "How long, O Lord? Will you forget me forever? How long will you hide your face from me? How long must I wrestle with my thoughts and every day have sorrow in my heart"? (Psalm 13:1-2, New International Version).
There are also these words from a person discouraged by unanswered prayer: "… the waters have come up to my neck. I sink in the miry depths, where there is no foothold ... I am worn out calling for help; my throat is parched. My eyes fail, looking for my God" (Psalm 69:1-3).
Then there are these desperate words about unanswered prayer: "I cry to you for help, O Lord. Why, O Lord do you reject me and hide your face from me"? (Psalm 88:13-14).
These three examples show a child that to be perplexed by unanswered prayer is not a new experience to people of faith.
2. Gently teach children that sometimes God's answer is 'no'
An effective way to do this is by sharing examples of unanswered prayer from important biblical persons. Help children to see that even important and prominent people in the bible received 'no' for an answer and were left frustrated by unanswered prayer but retained their faith nevertheless. For example:
•   David's prayer for the healing of his sick son in 2 Samuel 12:16 - "David pleaded with God for the child. He fasted and went into his house and spent the nights lying on the ground" (NIV). His son died.
•   Jesus prayed to be spared the violent death on the cross in Matthew 26:39 - "My Father, if it is possible, may this cup be taken from me". He was arrested and tried, shortly after offering the prayer.
•   King Zedekiah sought, through prayer, help in defeating the attacking armies of Nebuchadnezzar, king of Babylon in Jeremiah 21:1-2. Israel was not spared being conquered and carried into captivity.
•   Paul prayed for relief from a "thorn" - "three times I pleaded with the Lord to take it away from me, but …" (2 Corinthians 12:8). The thorn in his flesh remained.
Again, these kinds of examples from significant biblical personalities can help children adjust their faith view to the reality that sometimes the answer to prayer is 'no'.
3. Instruct children that a higher wisdom may be at work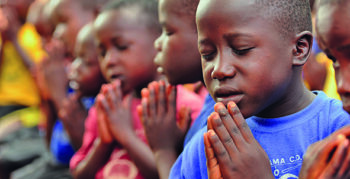 In the bible it is clear that God's agenda does not always mesh with ours: " 'For my thoughts are not your thoughts, neither are your ways my ways,' declares the Lord. As the heavens are higher than the earth so are my ways higher than your ways and my thoughts than your thoughts" (Isaiah 55:8-9). Remind a child the lesson in that verse is that when we are disappointed with life and with God, there may be a larger and greater wisdom operating. It can help to provide a child with an example from current life such as this one. A woman tells the story of her grandfather who worked as a carpenter during the Great Depression. One day he was building wooden crates for clothing his church was sending to an orphanage in China. On his way home, the man reached into his shirt pocket for his glasses only to find they were missing. Replaying his earlier steps during the day he realised that the glasses had slipped out of his pocket unnoticed and fallen into one of the creates which he'd nailed shut. His brand new glasses were on their way to China. The Depression was particularly hard for him and his family of six children and that very day he'd paid twenty dollars for those glasses. Driving home this prayer of lament ran through his mind: "It's not fair, God. I've been very faithful in giving of my time and money to your work, and now this!"
Many months later, the director of the orphanage who received the crated clothing was on leave in the United States. He was visiting all the churches which had supported the orphanage and came to speak one Sunday at the man's small church in Chicago. The director began by thanking the people for their support of the orphanage adding, "But most of all I must thank you for the glasses you sent last year". He explained his part of China was in civil war and that soldiers came through the orphanage destroying the property "including my glasses". He said, "Even if I had the money, there was simply no way of replacing those glasses. Along without being able to see well, I experienced headaches every day, so my coworkers and I were much in prayer about this". Then the crates arrived. And when the covers were removed he found a pair of glasses lying on top. Pausing to let his words sink in, the director added, "When I tried on the glasses, it was as though they had been custom-made just for me! I want to thank you for being part of that".
4. Remind children that God knows what is best
Every child has had the experience of having a parent say 'no' to a request. For example, a child upon seeing a parent light a match may very likely want to do the same. When they ask to play with matches, a parent will simply say 'no' because it's unsafe. Though the child may cry over that answer, the 'no' is not meant to be unkind, cruel, dismissive, but to protect the child. Help children to see that a similar but larger wisdom is operative when it comes to unanswered prayer. Teach them God is good, God is loving, God is all-wise, always acting for our best interest.
5. Stress the biblical virtue of waiting
We live in a world of instant gratification. Remind a child there can be a time delay in their prayers. When that happens, the biblical virtue of waiting on God should be exercised. Provide a child with bible passages encouraging this. For example: Psalm 27:14 - "Wait for the Lord; be strong and take heart and wait for the Lord"; Psalm 37:4 - "Be still before the Lord and wait patiently for him; do not fret". Developing the ability to wait is an important spiritual discipline for children and adults because it deepens our ability to tolerate delays and heightens our willingness to let events unfold in God's time.
6. Encourage children to continue trusting God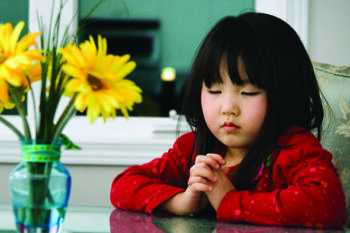 As they wait and even though they may be deeply disappointed by unanswered prayer, encourage them to continue trusting in God. Faith is deepened when one continues to believe in spite of spiritual disappointment. When children are disappointed, teach them to offer this prayer of faith written by St Boniface, the 8th century missionary to Germany: 
Eternal God, the refuge of all your children,
in our weakness you are our strength,
in our darkness our light,
in our sorrow our comfort and peace.
May we always live in your presence,
and serve you in our daily lives.