January Saints
Blessed William Joseph Chaminade
(1761-1850)
Born in Périgueux, France, William Joseph Chaminade was the second youngest of 15 children in a deeply Christian family. At age ten, he went to the College of Mussidan where he remained for 20 years. He made private vows of poverty, chastity and obedience in 1775, and was ordained a priest ten years later.
In 1790, after the outbreak of the French Revolution, Father Chaminade moved to Bordeaux. In 1791, he refused to take the oath of the so-called Civil Constitution of the Clergy, and exercised his priestly ministry secretly, disregarding constant danger.
After a three-year exile to Spain, he returned to Bordeaux and founded the Sodalities of Our Lady, a Society of Mary known as the Marianists, a family of religious and laity dedicated to Mary and whose objective was to offer to an indifferent and de-Christianised society "the spectacle of a people of saints", by living and sharing their faith and supporting one another in living the Gospel.
The last ten years of his life were a time of severe trial: health problems, financial difficulties, misunderstandings and distrust, and obstacles to the exercise of his mission as founder. He faced these difficulties with great confidence in Mary, faithful to his conscience and to the Church, filled with faith and charity, until his death.
Blessed William, show us the importance of sharing the faith with others.
Source: Internet – various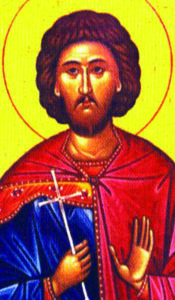 Sts Clement & Agathangelus
(d. 308)
Saint Clement and his disciple Agathangelus were denounced as Christians and sent to the governor Agrippina, who subjected them to such inhuman torments that even the pagan on-lookers felt pity for the martyrs and began to pelt the torturers with stones.
Having been set free, the saints healed, baptised and instructed multitudes of people. Arrested again on the orders of Maximillian, they were sent first to Ancyra, where the ruler Cyrenius had them tortured, then to the city of Amasea to the cruel proconsul Dometius. There, the martyrs were thrown into hot lime, were flayed, beaten with iron rods, set on red-hot beds, and had sulphur poured on their bodies. All this failed to harm the saints, and they were imprisoned.
Agathangelus was beheaded on November 5 and on January 23, Clement was killed by soldiers who stormed the church and beheaded him as he offered Mass.
Saints Clement & Agathangelus, may we bear our sufferings cheerfully for love of God.
Source: https://oca.org/saints/all-lives/2017/01/23
Blessed Maria Teresa Fasce
(1881-1947)
Maria Teresa (Marietta) of Cascia was born in Torriglia, Italy, to a middle-class Christian family. Marietta was enrolled in school where she did well. She was lively and vivacious.
Despite her family's opposition and an initial refusal, Marietta entered a Ligurian Augustinian monastery, receiving the habit in 1900, and making her profession six years later.
The monastery was in crisis, with a very relaxed attitude among the younger sisters. In 1910 she left to re-examine her vocation, only to return the following year to work towards the needed reform. In due course she became Mistress of Novices, and later, Abbess, a position she held until her death.
Marietta was a strict, practical woman known by her community for her great tenderness and friendliness. She was often ill, suffering from painful afflictions, including tumours, asthma, diabetes and circulatory problems. She referred to her tumours as "her treasure", and explained that it was the most beautiful gift which Jesus had given to her. Despite her pain, she never complained about her illness and she never slowed the pace of her activity. 
Also known for her great stamina, she directed the construction of a new church for Saint Rita and a girl's orphanage.
Blessed Maria, teach us how to suffer in silence.  
Source: http://www.catholic.org/saints/saint.php?saint_id=7457