Reflecting on All Souls' Day
Since the very beginning of the Marist Messenger, there has been a great care for, and devotion to, the souls in purgatory. As well as the 'Remembering Our Dead' page each month, the November issue has invariably carried an article and / or an editorial about the celebration of All Souls.
On All Souls' Day a couple of years ago, Pope Francis said, the commemoration of the dead ... has a sense of sadness: a cemetery is sad, it reminds us of our dear ones who have gone. It reminds us also of the future, death, but in this sadness, we carry flowers, as a sign of hope, I can even say, of celebration. And the sadness is mixed with hope. And this is what all of us feel today in this celebration: the memory of our dear ones, before their mortal remains; and hope. All of us will tread this path sooner or later, with more or less grief, but with the flower of hope, with that strong thread that is anchored in the beyond. See, the hope of resurrection does not deceive.
I like visiting cemeteries. I enjoy the peace and quiet and the opportunity for quiet reflection. The headstones make it easy to remember to pray for the dead. When I read them, I wonder about the lives of those who lie there, and pray for them. Some headstones tell stories of tragic death. Many express faith in the resurrection and hope for eternal life, and tell of a family's love for the person buried there.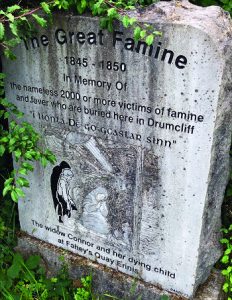 When I was visiting cemeteries in Ireland last year in the towns and villages from where some of my great-grandparents came, the saddest monuments were memorial stones in Drumcliff cemetery, in Ennis, County Clare: The unknown – in memory of the many disadvantaged people who are buried in this plot; and another inscribed, The Great Famine 1845-1850 -- in memory of the nameless 2000 or more victims of famine and fever who are buried here in Drumcliff. Before the famine, County Clare had a population of 300,000. The population has never recovered -- nowadays, there are fewer than 100,000 people in the county. Some emigrated, and many more died. Many of them, I think, did their purgatory on earth.
The celebration of All Souls, and the idea of purgatory, make me glad to be Catholic. I find it consoling that, even though I can no longer do anything for those who have died, and even though there might have been things that I failed to do for them that I might have done when they were alive, I can still pray for them and assist them after their death.
The doctrine of purgatory is consoling also because we know very well that we are not perfect – we have failed to love well, and sometimes failed to love at all, and we have to be perfect to see God. Purgatory means that we can be cleansed of our sins after death, and so, come to meet God face to face. While we cannot be sure of salvation, we can be sure of God's compassion and forgiveness. I have a long list of those who have died, and for whom I pray. My faith assures me that they pray for me too; and I hope most sincerely that people will continue to pray for me when I die.