November Saints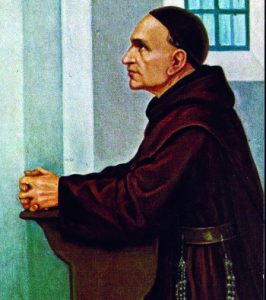 Saint Raphael Kalinowski
(1835-1907)
Joseph Kalinowski was born in Vilna, Russian Poland (now Vilnius, Lithuania). Raised as a devout Catholic, he was educated at home and then at the local College of Nobility. He felt called to the priesthood but chose to go to university first. All Polish universities had been closed by the Russians in 1795 so he attended the Institute of Agronomy in Hory Horki, then the Academy of Military Engineering in St Petersburg. Graduating in 1857 as a lieutenant, he took part in designing the Kursk-Kiev-Odessa railway.
In 1860 he was reassigned to Brest-Litovsk, and promoted to captain of general staff. Despite the oppression of Russian authority, he started a Catholic Sunday School and limited his personal expenses in order to help the poor.
When the Polish insurrection broke out in 1863, he resigned from the Russian forces, and joined the insurgents. On 24 March 1864, he was arrested and condemned to death. This was reduced to 10 years' hard labour in Siberia, and he set out on the nine-month trek on foot, one of a long line of exiles bound for what he described as "a vast cemetery for tens of thousands of victims".
On his release in 1873, he first went home, then sought to follow his vocation, the priesthood. He was forbidden to settle in Lithuania, and most Polish monasteries had been suppressed, so he went to Paris, where he taught for three years. He did his novitiate with the Carmelites at Graz in Austria, receiving the name Raphael of St Joseph, and his theological studies in Hungary. Finally, he was ordained in Czama, the only Carmelite house then in Poland, in 1882.
Grounded in constant prayer and self-denial, he dedicated himself to liberating his Polish people spiritually while they struggled for political and religious freedom. He spent so much time hearing confessions that he came to be called a martyr of the confessional. Besides attending to the spiritual needs of the Ukrainian Catholics, he also ministered to the local Orthodox faithful.
Father Raphael died on November 15, 1907. Pope John Paul II saw in his canonisation a symbol of true independence, one based on a Christian respect for the rights of every person, every conscience and every nation.
Saint Raphael, inspire us to respect every person, every conscience and every nation.
Sources: Internet – various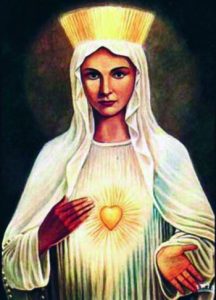 Our Lady of the Golden Heart
(1932-33)
15 years after the apparitions of Fatima, Our Lady appeared to five children in Beauraing, Belgium. The apparitions of Our Lady in Beauraing and neighbouring Banneaux took place within a period of six weeks, and both were approved by the Holy See.
On December 21 1932, Our Lady made herself known to the children, saying: "I am the Immaculate Virgin". Our Lady appeared with her heart golden and resplendent.
Beauraing was, and continues to be, a humble village in southeast Belgium, four miles from the French border. During the time of the apparitions of Our Lady, the population was about 2,000. They also suffered from the effects of the Great Depression, but they emerged from this period for the better, being simple people close to the land.
From the 29th of November until January 3 of 1933, Our Lady appeared almost every day to these five children. The total number of apparitions was 33.
In the final vision, the Lady reportedly asked one of the children called Fernande: "Do you love My Son?" and she replied "Yes". She then asked her "Do you love Me?" and she again answered "Yes". The Lady then stated: "Then sacrifice yourself for me", and bade them farewell before the child could reply.
The content of her message was very brief, two or three words, but strong. Some tried to add to it, but the children kept the message in its original state.
Our Lady of the Golden Heart, increase our love for your Son.
Source: www.piercedhearts.org/hearts_jesus_mary/apparitions/our_lady_beauraing.html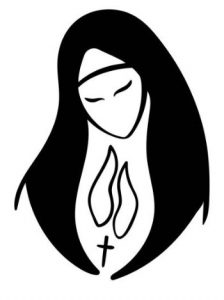 Blessed Helen of Veszprem
(d. 1270)
Blessed Helen was a Dominican nun in Veszprem, Hungary, novice mistress to Saint Margaret of Hungary and Prioress of her convent.
A reputed stigmatist, she was given to ecstasies, and lilies of light were said to grow from her hands during prayer.
Blessed Helen died of natural causes around 1270, and her body was reported to glow at the time of her death.
Blessed Helen, help us to obtain a true spirit of prayer. 
Source: catholicsaints.info/blessed-helen-of-hungary