November
Fr Petitjean held over
The second part of the series about Fr Jean Baptiste Petitjean will be published in the December MM. Apologies!
An MM Blooper!
Apologies for an inaccurate caption on page 43 of the October MM. The caption beneath the picture in the left hand column should have read, "Fr John O'Neill SM meets the Governor General, Sir Bernard Fergusson". The sharp-eyed reader who was first to point out the mistake has received an appropriate prize!
Global Climate Strike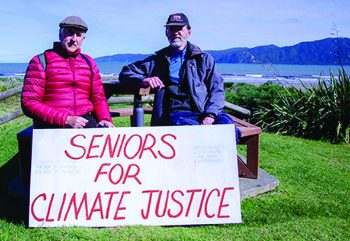 Marist priests Piripi Cody and Peter Healy of the Whānau Maria Marist Community in Ōtaki, with Kāpiti Island in the background, on 27 September 2019.