Bishop Stuart O'Connell SM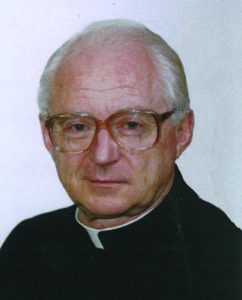 Born in Wellington, 11 May 1935
Professed at Greenmeadows, 11 February 1956
Ordained priest in Lower Hutt, 27 July 1960,
Appointed bishop of Rarotonga, 8 November 1996
Ordained bishop, 22 February 1997
Died in Auckland, 2 August 2019
Stuart France O'Connell was born in Wellington and lived his early years in Lower Hutt. His parents were Harriet, nee France, and Edward O'Connell. He went to school at Sts Peter and Paul's Primary, Lower Hutt (1940-46), and on 15 July 1946, he was a first day pupil in Standard 4 at St Bernard's College primary school. From 1949 - 53, he attended St Patrick's College, Silverstream.
He entered Mount St Mary's Seminary in 1954, and was at novitiate at Highden in 1955 when the accommodation block burnt down. The novitiate transferred to Greenmeadows, and Stu made his first profession as a Marist there. Bishop John Kavanagh ordained him to the priesthood in Sts Peter and Paul's Church, Lower Hutt.
He was ordained as the fifth Bishop of Rarotonga in St Joseph's Cathedral, Avarua, Rarotonga. The ordaining bishops were Bishop Robin Leamy SM, Cardinal Thomas Williams, and Bishop Soane Lilo Foliaki SM, Bishop of Tonga.
The London Missionary Society, which became the Cook Islands Christian Church (CICC), brought Christianity to the Cook Islands in 1823. Catholic missionaries arrived in 1894, 71 years later. As a consequence, Catholicism trails behind the CICC in numbers of members. Over the decades in some villages and on some islands interdenominational conflict was part of life. Stu and his predecessors, and many of the Picpus priests, worked tirelessly to build bridges between ecclesial communities.
An example that shows how highly regarded Stu was by members of the other churches concerns the blessing of a new wharf at Avatiu, the port on Rarotonga. Representatives of all the denominations were assembled at the water's edge for the prayer and festivities. Stu was given a key role and chose to use lots of holy water, as Catholics tend to do! Meanwhile, just beyond the reef, a pod of whales basked. Bishop Stu's central role in the ceremony indicated the regard in which he was held; and the display by the whales, on cue, as it were, enhanced Stu's mana and that of the Catholic Church.
Bishop Stu lived simply and worked tirelessly for the people of the Cook Islands. His ease in relating to people helped win the trust of parishioners, and his joy communicated to everyone that he was happy to be their shepherd. He was approachable and encouraging.
Bishop Stu attended and spoke at the Oceania Synod in Rome in 1998; made two ad limina visits to Rome, 1998 and 2004; represented the Pacific bishops at the Mission Congress in Rome in Jubilee Year 2000; and represented the Pacific bishops for 10 years on the Pacific Conference of Churches.
Bishop Stu retired as Bishop of Rarotonga in April 2011 and returned to New Zealand.
I am grateful to Bishop Patrick Dunn for his appreciaton of Bishop Stu during his time in Auckland:
When he 'retired' to Auckland in 2011 he became a great help to Bishops Patrick Dunn and Robin Leamy, with the usual round of confirmations, but also in his support for the Cook Island community where he was much loved. Auckland gave him new opportunities to mix with friends from the Cook Islands, from Samoa and from NZ. He also helped with Masses for the Carmelites and became chaplain to the Knights of the Southern Cross, enjoying all his gatherings with them.
Over recent years Bishop Stu grappled with serious health issues that kept him indisposed, sometimes for months at a time, but as soon as he bounced back, he was happy to help again wherever he could. Bishop Pat Dunn wrote of him that "it was a real joy to have him as an episcopal confrere over so much of the past decade".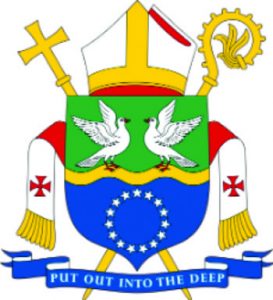 What a lovely man Bishop Stuart O'Connell was. May his good soul rest in peace, with his mother Mary, in the joy of the Lord whom he served so well.
E te Atu e, e oronga atu i te akangaroianga mutu kore kiaia; kia tika ia koe kia kaka mai te marama mutu kore i runga iaia. Amene.   
Appointments
1961 : St Patrick's College, Silverstream
1962 - 1963 : St Bede's College, Christchurch
1964 – 1965 : full time university, Rochester Hall, Christchurch
1966 - 1969 : Chanel College, Samoa
1970 – 1971 : St Patrick's College, Silverstream
1972 - 1974 : St Bede's College, Christchurch
1975 : Chanel College, Samoa - Rector from May
Programme of Marist Renewal, Australia
1976 - 1982 Chanel College, Samoa, Rector and Superior
1983 : Director of Ongoing Formation, course in Sydney
1983 August - 1984 : Washington D.C. Studies at Catholic University of America
1985 - 1986 : Mount St Mary's, Greenmeadows
1985 May : Provincial Councillor
1986 May – 1992 : Cerdon, Wellington, Vicar-Provincial; Provincial Bursar
1991 June : Provincial-Elect
1992 March – 1996: Provincial, SMNZ
1996 November 8 : Appointed Bishop of Rarotonga by Pope John Paul II
1997 February 22 : Ordained Bishop in St Joseph's Cathedral, Avarua, Rarotonga
2011, August : Woodside Rd, Mt Eden, Auckland
2018 : Little Sisters of the Poor, Auckland