Fr Jean Baptiste Petitjean SM
'Parish Priest to all New Zealand'
Part 1 of 3
It was a quick and peaceful death. On the 21st of September 1876, Father Jean Baptiste Petitjean SM knelt at the altar of St Mary's Cathedral in Thorndon, Wellington, to pray his evening Office. Within a few minutes he was seen to slump to the ground and lie still. Several people, including Bishop Francis Redwood SM, rushed to his aid. Bishop Redwood gave him absolution, but Fr Petitjean died even before he could be anointed. His last words were reported to have been "leave me alone, I am only sleeping".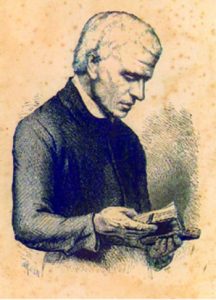 Fr Petitjean went to his rest after 37 years of missionary and priestly service in New Zealand. He had begun his work among the Māori of the far north, then ministered to the predominantly Irish settler community of Auckland. In 1850 he came to Wellington, where he was based until his death. But his pastoral work took him far afield, to Akaroa, Christchurch, Dunedin, and the shores of Foveaux Strait at the southernmost part of the South Island. His long journeys, mostly on foot, sometimes through dense forest and across unbridged rivers, were remarkable feats of endurance and dedication. Fr Kevin Maher SM, a former editor of the Marist Messenger, called Fr Petitjean the 'parish priest to all New Zealand'.
And indeed, Fr Petitjean is remembered for playing a foundational role in the New Zealand Church from the far north to the deep south. But more than his achievements, it is the man himself, as revealed in his exceptionally candid writings, who matters most, and can still speak to us today. For Jean Baptiste Petitjean was a man with a great capacity for love -- of people and of places. He had a deep attachment to home and family, and for a man of his temperament, the missionary life was especially hard. His is a very human story of faith and dedication, and also self-doubt and spiritual struggle. 
Jean Baptiste Petitjean was born in the French village of Mornant, on 30 March 1811. The line of the Roman Aqueduct of the Gier passes through Mornant on its way to nearby Lyon. Its broken but imposing arches are tangible reminders of a long settled countryside, home to Christian communities since at least the time of St Irenaeus in the second century. Petitjean was ordained to the priesthood on 28 February 1836. Two years later he joined the Society of Mary. It was this decision which determined the course of his life, taking him far from Catholic France to lands hardly touched by Christianity. 
In 1835 a vast swathe of the Pacific Ocean was designated the 'Vicariate of Western Oceania' by the Holy See. From New Guinea in the north to New Zealand in the south, this territory encompassed The Marshall Islands, Samoa, Tonga, and Wallis and Futuna. The daunting task of evangelising this region was given to a supremely confident young bishop, Jean-Baptiste François Pompallier, and the Society of Mary.
It's easy to see the appeal of missionary work to a devout and energetic young man. The Pacific was a new frontier for the Church. As far from Europe as it was possible to go, in the largest mission field in the world, the scope for evangelisation seemed endless. A few years after his arrival in New Zealand, Fr Petitjean wrote a letter in which he expressed his desire to carry the Gospel ever-further into Oceania. "I would like my compatriots to hear the cry of these tribes … are the innumerable isles of Oceania which are still without apostles to be abandoned? Must we neglect these archipelagos … which seem to open their ports to receive the envoys of Heaven?"
Bishop Pompallier and the first party of Marist missionaries sailed from France on Christmas Eve 1836. They did not sail directly for New Zealand, and, in fact, it was only after arriving in Tahiti that Pompallier settled on New Zealand as his missionary base. But they finally made landfall at the Hokianga Harbour on 10 January 1838.
Fr Petitjean was among a later company of missionaries who set out for the Pacific in June 1839. Among their number was Fr Phillipe Viard who would go on to become the first Bishop of Wellington. In December 1839 the party of missionaries arrived at Kororāreka, in the Bay of Islands where Bishop Pompallier had by now made his headquarters. 
In the 1830s the town of Kororāreka was largely inhabited by European traders and whalers. With a well-established reputation for violence, drunkenness and other vices, Kororāreka had been dubbed 'The hell hole of the Pacific'. We have no record of what Fr Petitjean's initial impressions were, but there is no doubt that he was acutely aware of how far he was from the world he had grown up in, and of the scale of the task before him.  
Sources:
Sons of France, Mary Catherine Goulter
God's Farthest Outpost: A History of Catholics in New Zealand, Michael King
Steadfast in Hope: The Story of the Catholic Archdiocese of Wellington, Michael O'Meeghan SM