Fr John Lopdell Mori SM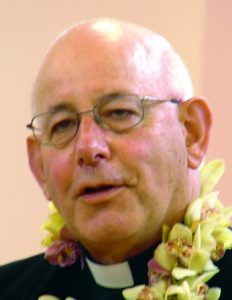 Born in Napier, 5 May 1943
Professed at Highden, 7 January 1963
Ordained, 1 July 1967
Died in Napier, 24 July 2019
Although John was born in Napier, his family later moved to Wellington. He was educated at the Petone Convent School and St Patrick's College town. At school he was a notable track athlete. He was also an avid participant in Gilbert and Sullivan operettas. Over later years he would recite many of the songs word for word, or sing them with a strong and confident voice.
Fr John's ministry of over 50 years can be easily divided into two sections… given his love for golf we might call them "the front nine and the back nine". He was to be involved in the education ministry for 35 years. He gained his Bachelor of Commerce degree at Canterbury University, taking up teaching at St Bede's in Christchurch, then St John's Hastings, St Patrick's Silverstream, and Roncalli College Timaru.
After a time of Renewal, the second nine began… appointments to pastoral ministry in Whangarei and Napier and most recently as chaplain to St Joseph's Māori Girls College. 
John had an amazing memory, and an extraordinary breadth of knowledge. He was a talented coach of rugby and athletics. He was an expert in the use of computers. At home the other night I suggested we let our SM Archivist have a look at his computer.… "Which one", I was asked, "he has three!"
John enjoyed teaching… his presentation always clear, precise, professional; those students who applied themselves were challenged to excel, and many did.
John had a passion for photography. College magazines benefitted from his skill with the camera, and his almost magical touch with language. Parish jubilee magazines benefitted likewise. Whether writing articles himself, editing other's work, or perfecting layout, his work was first class.
I have never heard a preacher as articulate as Fr John. He was a real wordsmith. Often his use of a compelling and novel image sharpened the impact of the message. Though he prepared assiduously for any task, there was never a note written down. If John was asked for a copy of his homily he would promise to write it down, sometimes with the rider, "if I can remember what I said". If I remember! -- huh -- the man never forgot a thing!
A confrère wrote: "I was at Mass with John one Saturday morning when he shared a short reflection. He was most impressive. You could hear every word; he was engaging, thoughtful, and used plain English. He had a sort of public presence that was part confidence, part competence, but not in any way showy". Those words will resonate with many of you here today.
At school and in parish life John had a way that touched people and families deeply. Many students asked him to preside at their weddings – and then at Baptisms of their children. So lasting were those bonds that he has presided at weddings of those whom he had baptised.
It is also true that John carried some sadness in his life.  Sometimes there were extensive periods of introspection and apparent aloofness, which suggested some deep and buried hurts. Maybe it was from here that emanated the lack of confidence in his own ability that dogged John from time to time. Having experienced these things for himself, it was perhaps from this deep root of sensitivity that sprang John's patience and empathy for people. People came to John for advice and help because he was approachable. For school staff, for students, for parishioners and for some of his fellow Marists and priests John had a listening ear, he was genuine and caring. They appreciated his insight. They trusted his integrity. They sensed something unshakeable that lay deep inside him -- his abiding faith. 
Someone who served in ministry with Fr John over many years wrote: "John had many fine qualities that were largely hidden, and unknown to many. He helped people and confreres over the years in a very quiet and unsung way, never looking for position or power or prominence. That is about as Marist as you can get!  
Thanks to Fr Michael Wooller SM for these excerpts from his eulogy.
Appointments:
1968-1969 : Full-time university,
Rochester Hall, Christchurch
1970-1975 : St Bede's College, Christchurch
1976 : St John's College, Hastings
1977-1986 : St Patrick's College, Silverstream:
     1977 - May 1981 : Bursar
     1981 - 1986 : Full-time teacher
1987-May : Renewal, Greenmeadows
June 1987 - 2002 : Roncalli College, Timaru
2003 : Renewal, Europe
2004 - 2013 : Whangarei Parish
2014 : Catholic Parish of Napier
2016 : Maryknoll, Superior
2018 : Taradale residence and parish
2019 : Windsor Terrace, Superior