Fr Bob Lee SM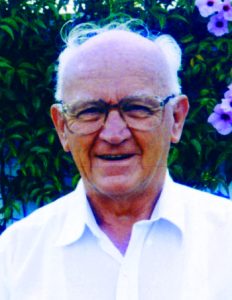 Fr Robert Edward Lee SM
Born in Hawera, 18 February 1925
Professed at Highden, 11 February 1946
Ordained, 17 December 1950
Died in Heretaunga, 24 July 2019
We pray for and honour Father Robert Edward Lee, priest of the Society of Mary and cherished member of the Lee family. Brought up in Waitotara, Fr Bob attended St Patrick's College, Silverstream.
A prayerful man of strong faith, Fr Bob was devoted to the Church and to the Society of Mary. His other great love was family. He esteemed his nephew, Bishop Richard Umbers, highly, and was deeply moved to be present at his Episcopal Ordination 3 years ago. He was proud of his priest nephew, Father Chris Skinner SM. It was a special blessing that Chris spent a few hours with Bob the day before he died.
The other caring family in his life were the Daughters of Our Lady of Compassion. In 2001 Father Bob began ten years as chaplain at the Aubert Home of Compassion in Whanganui. He loved it, and, with the Sisters, was truly saddened when structural reports on the building led to its immediate closure.
Five years later, Bob once again came under the caring umbrella of the Order as a resident of Marian Court. We offer to the Compassion Sisters our warmest gratitude for their love and care of Bob.
I first met Bob in 1951 at St Bede's College, Christchurch. He, a teacher, me a schoolboy. One year, the whole school spent Barracks Week at Burnham Military Camp. It was an adventure and fun, but the evenings were dull. So, Father Bob, together with Fr Norm Scambary and Mr Terry Maloney, ran camp concerts, with themselves the key performers. They were brilliant and hilarious.
Which reminds me of Bob's great party piece: BAGS – a witty melodrama of many characters and some length that Bob carried off with superb characterisation and brilliant memory. Sadly, probably only older confreres will know it as in more recent years Bob resisted all persuasive efforts to present it.
Focused and positive, Bob was a very effective maths teacher. He could put on a hard face and be demanding when required, but then put in extra time after school coaching the same kids so they could catch up.
After two years at St Bede's, Bob was appointed to Hato Paora Māori College at Parorangi, Feilding. All told, in two spells, Bob spent 25 years at Hato Paora as a teacher and Rector. He respected and loved that College, and the culture that imbued it. He was proficient at Māori language, had great affection for Māori youth, and enjoyed their often-quirky sense of humour: like the boy who looked at Bob's thinning white hair and said: "snow's melting, eh, Pā?"
After Hato Paora, Bob was appointed to Pompallier College, where we taught together for 11 years. Bob had many skills, one of which was cooking. He insisted on preparing a celebration dinner for my silver jubilee. We had a superb five course dinner, with all possible trimmings and a printed menu. He wasn't a cook: he was a chef.
Careful and meticulous by nature, Fr Bob liked routine, especially in his later years. He built into that routine a strong spiritual and devotional life. He loved his Mass and even when we were travelling, we always had daily Mass. He was faithful not only to the Divine Office, but also to regular spiritual reading and weekly Sacramental Reconciliation. His mind was sharp and memory good. His room was always immaculate. He welcomed visitors warmly, and wouldn't let you go without telling you his latest joke, sometimes several times over.
My respect and love for you, Bob, is great. It has been woven through years of friendship and times of praying and working together. I am proud to call you friend and I thank God for the gift he has given us of you and your priesthood. May you rest in peace, old friend.  
Appointments
1951 – 1952 : St Bede's Christchurch
1953 – 1965 - Hato Paora College, Feilding
1966 : Second Novitiate
May 1966 – January 1967 : Nelson Parish
February 1967 - May 1968 : St Patrick's College, Wellington
1968 – 1980 : Hato Paora College, Feilding
1981 – 1987 : Pompallier College, Whangarei
1988 : Marist Studies, Rome
1989 – 1991 : Pompallier College, Whangarei
1992 : Meadowbank, and later Pt. Chevalier, Auckland
1992 : Greenmeadows
1995 : Coromandel and Whitianga
1998 : Taradale
1999 – 2000 : Tuakau
2001 - 2010 : Chaplain, Home of Compassion, Whanganui
2011 – 2015 : Retired, Palmerston North
2016 : Marian Court, Heretaunga