The Early History of the Marist Sisters – Part 3 of 3
The sisters made their first vows in 1826. By 1829 there were 20 of them, and over the next few years the small house was gradually enlarged as more young women entered the congregation. Two of them were nieces of Father Colin and one a niece of Marcellin Champagnat. We have a letter Marcellin wrote recommending his niece. One of Father Colin's nieces later became our fourth superior general, Mother Ildefonse Colin.
Another of these early sisters was Françoise Chanel, Sr Dominique, sister of Saint Peter Chanel. She died, probably of tuberculosis, in 1839. Peter received news of her death from confrères in October of that year.
The sisters set up a small boarding school at Bon Repos for poor children, most of whom could pay very little or nothing. The sisters used to make gloves and other things to sell to pay for all their expenses. In Cerdon, their apostolate had been visiting and supporting the sick and the poor. In Belley, their work was more and more in the education of the poor within the walls of the convent.
Over those first years, in the 1840s and 50s, several new foundations were made in France. However, between 1826 and 1845, though there were 86 professions, only four houses were opened. This was possibly because there were enough semi-enclosed religious communities already in that area of France, and the most pressing need was for sisters who were not limited by the rule of enclosure.
Father Colin wished the sisters to be semi-enclosed like almost all the women's congregations of the time. However, it seems that the Foundress herself had no hesitation in going out to visit people who needed support. Her vision for us was not that of a semi-enclosed congregation but of a fully apostolic one. This was one of the issues in her deteriorating relationship with Colin, which had been excellent until the 1840s.
There were other issues. For example, she wanted the sisters to say the office of the Blessed Virgin while making gloves to sell, while Father Colin insisted they should go to the chapel. Jeanne Marie always maintained that our spirit was one of poverty, simplicity and love of work, and the fact that she liked the sisters to sew to make ends meet while praying, no doubt stemmed from this vision. A famous saying of hers, often quoted by our young sisters in Brazil was, "We don't want great ladies among us!" Perhaps, however, the most important issue, and the one which caused her most anguish, was that she was very anxious that the rule of the first sisters be written by Colin.
Many times, she implored him to write it for them. Finally, when this didn't happen, she wrote one herself as an interim measure. Of course, this did not help their relationship. One month before her death in June 1858, she wrote to him for the last time, imploring him to write a Rule for the Sisters. She was too ill to write, so dictated it to her niece, Sr Thérèse de Jésus:
Very Reverend Father, God has entrusted His work to you, Our Lady has chosen you to give her children the Rules they must follow to reach Heaven more surely. I see from the copy of the Constitutions brought from Belley that all is not done. Oh, I beg of you, continue what you have begun; you alone know what Our Lady wants for us; fulfil the mission She entrusted to you if you want her to bless you and welcome you one day to be with her. There must be no spirit in the Rule but that of Our Lady, and you know that this good Mother chose you to make it known to all her children and to trace for them the path they must follow to be true Marists.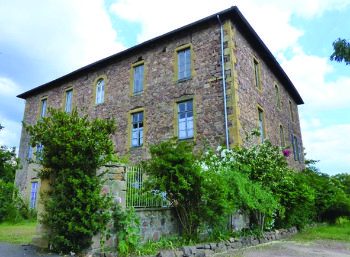 In 1851, the deterioration of the relationship between Jeanne Marie and Fr Colin had been indicated by his asking her to resign as the Sisters' superior. At the chapter of 1852, Mother Ambrose, Marie Mortier, was elected superior general. The historical account of this election tells us that our Foundress knelt at the feet of her successor to pledge her obedience to her.
Our Foundress' final home was in a new foundation in the small town of Jarnosse, which was, as mentioned earlier, not far from her own Coutouvre. Here she had a very substantial house built, still standing today, where the sisters lived, and had a boarding school for poor children. In Jarnosse, it seems Jeanne Marie was able to live her own vision of what the Marist Sisters should be and do. The Sisters were very much inserted into the life of the village, known and loved by all, so much so that at her funeral, the whole village was present. Jarnosse, and the way of life of the Sisters there, was her legacy to us, her Marist Sisters.
Jeanne Marie Chavoin, Mother Saint Joseph, died on 30 June 1858, at the age of 69, surrounded by her community. A week after her death, our first foundation outside France was made in Spitalfields, in a parish run by the Marist Fathers, in a very poor area of London. A few years later, a foundation was made in Carrick-on-Shannon in Ireland, where our sisters are still living today. Today, though small in number, we Marist Sisters are in 14 countries on 4 continents.
As to how we Marist Sisters see ourselves today, perhaps the following words from our Constitutions best express what it means to be a Marist Sister:
Our Congregation is characterised by the desire to make the mystery of Mary in the church the daily inspiration of its life and action, and not by any special work nor by the promotion of any particular form of Marian devotion. Everything in the Congregation: the choice of works, the way in which they are carried out, the life-style of the sisters, should reflect this aspiration: to think, to judge, to feel and to act as Mary did. This spirit, which we wish to make our own, will ensure that our presence in the church and the world is both active and discreet as was that of Mary".
Marist Sisters' Constitutions, # 4
May Mary help us to be true to this calling.