Pope in Morocco and Belgium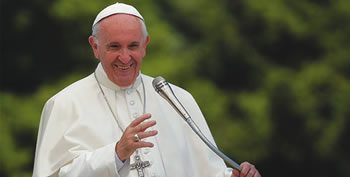 Last Saturday and Sunday I undertook an Apostolic Journey to Morocco, invited by His Majesty King Mohammed VI. To him and to the other Moroccan authorities I renew my gratitude. The King was so brotherly, so friendly, so close.
Above all I thank the Lord, who permitted me to take another step on the path of dialogue and encounter with Muslim brothers and sisters, to be — as the motto of the Journey stated — "Servant of Hope" in today's world. My pilgrimage followed in the footsteps of two Saints: Francis of Assisi and John Paul II. 800 years ago, Francis took the message of peace and fraternity to Sultan al-Malik al-Kamil; in 1985, Pope Wojtyla carried out his memorable visit to Morocco, after having received King Hassan II in the Vatican. However, some might ask: why does the Pope go to the Muslims and not just to Catholics?
Children of Abraham
With the Muslims we are descendants of the same Father, Abraham: why does God permit so many religions? God willed to permit this. Scholastic theologians referred to God's permissive will -- voluntas. God willed to permit this reality: there are so many religions, some of which are born of the culture, but always looking to Heaven, looking at God. However, what God wills is fraternity among us in a special way with our brothers and sisters, children of Abraham like us, the Muslims. And that was the reason for this trip. We must not be scared by the difference: God has permitted this. We must be scared if we don't act with fraternity, if we don't walk together in life.
To serve hope, at a time like ours, means first of all to build bridges between the civilisations. And it was a joy and an honour for me to be able to do so with the noble Kingdom of Morocco, meeting its people and its rulers.
An Appeal for Jerusalem
With King Mohammed VI we confirmed the essential role of religions in defending human dignity and promoting peace, justice, the care of Creation, that is, our common home. In this perspective, we also signed together with the King an Appeal for Jerusalem, so that the Holy City is preserved as patrimony of humanity and place of peaceful encounter, especially for the faithful of the three monotheist religions.
I dedicated particular attention to the matter of migration, attending the meeting dedicated specifically to migrants. Some of them testified to the fact that the life of one who emigrates changes and becomes human again when that person finds a community that receives him or her as a person. This is essential.
Migration
As the Holy See, we offered our contribution, which is summarised in four verbs: receive the migrants, protect the migrants, promote the migrants and integrate the migrants. It's about undertaking together a path through these four actions, to build cities and countries that, although keeping their respective cultural and religious identity, are open to the differences, and are able to appreciate them, in human fraternity. The Church in Morocco is very committed in her closeness to the migrant persons and so, I wished to thank and encourage all those who serve them with generosity, fulfilling Christ's word: "I was a stranger and you welcomed me" (Matthew 25:35).
An edited version of the Pope's speech at the General Audience, 3 April 2019
Source: Vatican News
A "rainbow" of imperfections
When I saw that in your house, that cares for sufferers of Alzheimer's disease, there is a choir called "Rainbow", I thanked the Lord. Because I think that for you, to sing together is a consolation, a support, that helps you to carry on and to bear the burden of the disease, that must certainly weigh upon you. Rather, I think that your song is made more precious by your vulnerability. I think that the fact of putting together our frailties and mutually accepting them, this is the most beautiful "hymn", the harmony most pleasing to God, a "rainbow" not of perfections, but of imperfections! 
From the Pope's address to the "Rainbow Choir" of the rest home for sufferers from Alzheimer's disease, in Bonheiden, Belgium,
3 April 2019
Source: Zenit