Ordination of Bishop Susitino Sionepoe SM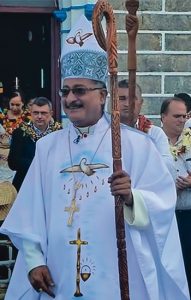 Susitino Sionepoe SM was ordained bishop on 24 March 2019 in the Cathedral of Our Lady of the Assumption in Matā'utu, the capital of Wallis and Futuna.
Susitino comes from the village of Vaitupu in Hihifo and is the second bishop of Wallis and Futuna to be born there.
The principal celebrant was Archbishop Michel Calvet SM, Archbishop of Nouméa, assisted by Bishop John Bosco Baremes SM of Port-Vila, the Bishop Emeritus of Wallis-Futuna, Ghislain de Rasilly SM and a number of other bishops.
The Provincial of the Society of Mary in Oceania, Rev Setefano Mataele SM and his Vicar, Rev Milikiade Rayalu SM attended, along with diocesan and religious priests, many Marists, and a big congregation of the faithful.
A delegation from the government of New Caledonia was led by the President, M. Philippe Germain, and 200 people came from New Caledonia, where Bishop Susitino has served in parishes for more than 15 years.
After his ordination to the priesthood, Bishop Susitino worked in parishes in the Diocese of Tonga and Niue in 1994 and 1995. He then moved to New Caledonia where he worked in parishes from 1996 until 2006.
In 2006 and 2007, he attended the Year of Formation in Ministries (AFM) at the Catholic Institute of Paris.
On his return to New Caledonia, he continued ministering in parishes until 2012.
From 2012 till 2018, Susitino was the Vicar Provincial of the Oceania Province of the Society of Mary, living in Suva, and Superior of the Marists of Wallis and Futuna.
At the time he was appointed as Bishop of Wallis and Futuna he was working in parish ministry with the community of Marist Fathers in Yaté, New Caledonia.  
Source: CathNews NZ Pacific www.cathnews.co.nz