Marist Messenger Survey
February 2019
•  310 readers responded to the survey
•  235 were women
•  all but 10 live in NZ
•  301 were subscribers and
•  252 respondents read all the articles.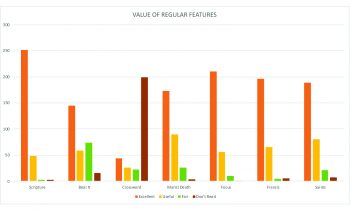 The tenor of their comments was encouraging rather than critical, and the criticisms were very constructive.
•  a third of respondents subscribe to the magazine on the basis of family tradition
•  the next biggest group, 20%, have subscribed after a promotion
•  approximately 520 people read or have access to the magazines of the 310 respondents
•  from this information it is possible to estimate that the MM has about 6,500 readers.
The most popular regular features are, in order:
•  those relating to Scripture (251)
•  the Focus editorial (210)
•  Pope Francis (196)
•  the Saints (189)
•  Death of a Marist (173), and
•  Can You Bear It? (145).
While many people find the crossword too hard, 44 considered it excellent, and one reader wrote: "Max does a fantastic job with the crossword – it stretches one's mind and is very clever". I think that may have been Max's mother!
Other significant statistics:
•  almost 53% of respondents want to read more Church teaching
•  40% would like to read more about Christianity in action
•  37% want more Church and NZ Catholic history
•  55% want to read about inspiring lives
•  50% are happy with the magazine's content as it is
Written comments were equally divided between those who like particular features and those who dislike them, for example: between those who have great affection for the saints of the month, and those who find them 'obscure'; and those who would like fewer stained glass windows' articles and those, many more, who read these articles first.
Many readers would like to read more articles by Joy Cowley, Fr Kevin Bates SM, Anne Kerrigan, and some recorded how much they liked reading the writings of Maria Kennedy, Tricia O'Donnell and Sue Jones.
In their comments on the Daily Reflections, some respondents said that the background colour makes for difficulty in reading (so that has now become lighter); some would like to read more priests' reflections, and some thought that the priests' writing sounded too much like homilies!
In answer to the "I would like to see in the MM" section of the survey, there were 70 different individual subjects suggested! They will all be kept in mind, given due consideration, and will be a valuable guide for years to come.
In regard to ticking the 'more' column in the 'Mix of Articles' section, one respondent wrote, "I feel like ticking them all but if we are not careful we will end up with a book the size of the Bible"; and another wrote, "If I don't like a column I don't read it. Simple!" Many enjoy the 'School for Prayer' series: "Prayer pieces from ancient fathers most helpful". And one respondent wrote, "Why change what works?"
The aim will be a gentle transformation in the light of the survey, with no shocks to readers, it is hoped!
And congratulations to the winner of the free subscription for a year, Mrs M Murphy of Pahiatua.