Marian Ecological Centre, Suva, Fiji
Care and Love for All creation
The Approach
The approach begins with the Spirit of Mary, the spirit of humility -- Mary as the humus, the soil of God from which the Word was made flesh and became the new creation. In our Pacific context, the soil which makes up the land is vital to us. It is viewed as the extension of our people. In most of our cultures, it is understood as the vanua, fonua, fanua, 'enua, whenua, as we call it in the Pacific. A theology that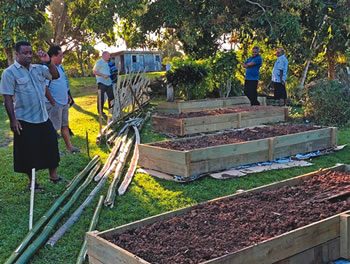 accompanies a renewed understanding of 'the land and the people' - is needed in Oceania. In Laudato Si, Pope Francis wrote, "The human environment and the natural environment deteriorate together". Isn't this the broken vanua in a nutshell? As Oceanians what is our answer to this? What is our mission to a broken human environment and natural environment?
Aim of the Ecological Centre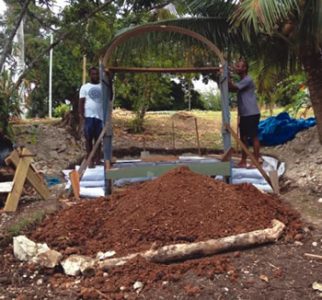 The aim is to allow Oceanians to rediscover an ecological approach that will rekindle their call for the healing of the people and the land. The Centre will deepen one's cultural understanding of 'land and people' in relation to Mary's call as the humble servant of God. It will use a Marian-ecological spirituality that sees Mary as the 'soil', the 'garden' and the 'earth'.
It will have the three inter-related disciplines:
*  a scientifically informed ecology
*  a sound theology of ecology
*  a practice of reflective action
Practical things to be done
1) Building an eco-home, following the design of the famous earthbag builder Nader Khalili:
A shovel, bags, a little barbed wire and the earth beneath are all that are needed to build with earth-bags.
Earthbag construction offers a broad possibility for ultra-low-cost, low-
impact housing, especially in regions where timber, cement, steel, and fuel are scarce.
Earthbag houses are fireproof, and can withstand hurricanes and other extreme weather. Solid as the earth, such houses hold excellent thermal mass and cannot rot or be eaten by insects.
2) Using renewable energy for electrical power – solar, wind and hydro.
Creating a Farm
The Centre uses organic and permaculture technique, mimicking the way in which organic materials provide ground cover and nutrients on forest floors. It is different from conventional farming in that it implements a 'no-dig' and 'no-weed' method.
The Centre will teach farming without chemicals, thus making a contribution to protecting human health and to restoring the diversity, integrity, and beauty of the eco-system which is our land.
We will use this Ecological Centre as a resource for education in how to live sustainably, delighting in the beauty and diversity of the natural world.
Eco-Mangrove Project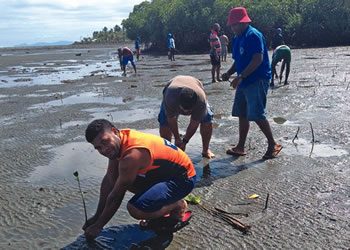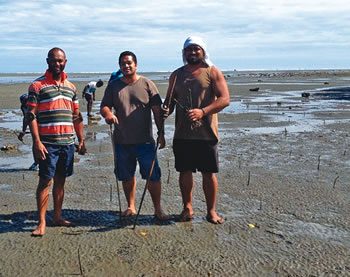 A special project of the Marian Ecological Centre involves the regeneration of mangroves on the shore-fronts of Suva, Fiji.
Director of the Centre, Fr Donato Kivi SM, recruited staff and students of the Marist College community for a working bee to plant mangrove cuttings on the low tide mud-flats by the shore.