Fr Michael Fitzgerald SM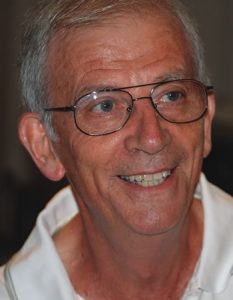 Born in Wellington, 14 September 1946
Professed 14 January 1967
Ordained 30 June 1971
Died 11 February 2019, Suva, Fiji
When Fr Craig Larkin was dying, he put a Bible on the visitor's chair, and when visitors came, he would ask them to read to him their favourite passage. When Fr Michael – we all called him 'Fitz' -- visited, and Craig asked him for his favourite passage, Fitz thumbed through the bible until he came to the first letter of St John and read from chapter 1:
Something which has existed since the beginning, which we have heard, which we have seen with our own eyes, which we have watched and touched with our own hands: the Word of life – this is our subject.
This was the Fitz's most cherished scriptural passage. He was, of course, a great devotee of all the scriptures. From what he himself had heard, seen, watched and touched with his own hands, he had developed deep convictions about the person of Jesus. These deep convictions became the springboard for his life of teaching and preaching of Jesus to others in the various ministries in which he was involved.
He was an illustrious teacher, and if it had not been a stroke that finally took him, he could well have died from chalk dust on the lungs! He was an avid, energetic, dynamic teacher who engaged students at Cawaci and seminarians in Pacific Regional Seminary (PRS) as he strove to establish strong convictions in them. He understood deeply that the bases of commitment are the strong intellectual convictions that have been formed in the person.
Preaching about Jesus was most dear to his heart. He not only preached with passion, and at length, but was gifted with words and able to unravel the sacred mysteries of the Gospel with clarity and verve. He could take the lofty mysteries of our faith and ground them in daily life. In his last public Mass in Upper Hutt, New Zealand, before returning to Fiji recently, he told the congregation that he would much prefer to be preaching Jesus than teaching about Aristotle, as he would be doing when he came to teach philosophy again at PRS.
His teaching and preaching were never so much to the fore as when he was facilitating the Spiritual Exercises of St Ignatius of Loyola in the thirty-day retreat, which he ran for 20 years, enabling 251 retreatants from throughout the Pacific to have a profound encounter with the person of Jesus.
Fitz died doing what he loved most: retreat work – in this case with our confreres preparing for perpetual vows. He died on a Feast of Mary, Our Lady of Lourdes – Patroness of Tutu, where he spent six years working at Marist Formation Community.
So much of Fr Fitz's life and his energy, his creativity, his vision came from a deep love of the Society of Mary and of the woman whose name it bears. Like the disciple in the Gospel, Fitz made a place for Mary the Mother of Jesus in his home and in his heart. For much of his adult life he pondered and meditated on words like these from the Constitutions of the Society of Mary:
If they desire to be true sons of this dear Mother, let them try constantly to breathe her spirit: a spirit of humility, self-denial, intimate union with God, and the most ardent love of neighbour. So, they must think as Mary, judge as Mary, feel and act as Mary in all things (Const. 228).   
Thanks to Fr Michael McVerry SM. This tribute is based on his homily at Fr Michael Fitzgerald's Requiem Mass..
Appointments
1972 - St Mary's Parish, Blenheim
21.2.1973 - Transferred to Oceania – Fiji
1973 - St John's College, Cacawi, Ovalau
1974-1976 - Holy Cross Parish, Wairiki, Fiji
1977-1978 - Holy Eucharist Parish,
Laucala Bay, PP and study
1979-1980 - St John's College, Cawaci
1981-1986 - St John's College,
Principal & Superior
1987-93 - Marist Formation Community, Tutu, Taveuni, Fiji
1994-2003 - Pacific Regional Seminary, Suva, Fiji
1999-2014, Aug-Sept - Oceania Thirty Day Retreat Ministry Fiji
2003-06 - Krist Jyoti Ashram,
Namata, Nadroga, Fiji
2006-11 - Oceania Provincial Administration, Suva, Fiji
2012 - Marist Community,
Adelaide Rd, Wellington
2013 - Marist College, Suva, Fiji
part of 2015 – St Mary of the Angels, Wellington
part of 2017 – Pā Maria, Wellington