Stations of the Cross
The text is adapted from the ceremony led by Pope Francis, at the Colosseum, Rome, on Good Friday, 30 March 2018.
The photos, taken by Glen McCullough, are of the Stations in St Benedict's Church, Newton, Auckland, and are used with the permission of the Parish Priest, Monsignor Paul Farmer.
First Station -- Luke 23:22-25
Jesus is condemned to death
Lord, we are horrified at the injustice done to you, and we don't want to be part of it. Yet there have been times when we have chosen Barabbas, times when our ears were deaf to the voice of goodness, and when we preferred not to see the injustice that surrounds us.
We pray
Lord, keep watch over our decisions, bring them clarity by your light, and lead us to ask the right questions. Evil alone never doubts. If watered by evil, trees that sink their roots in the ground wither, but you have set our roots in heaven, and our branches on earth, to know and follow you.
Our Father…
Second Station -- Mark 8:34-35
Jesus receives his cross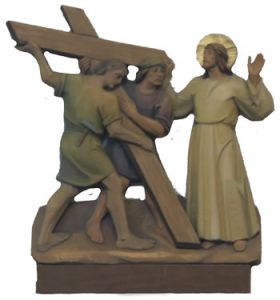 Lord, you accept your cross, as you always accept everything and everyone. You take it up and begin to walk, carrying it on your shoulders. Thanks to your sacrifice the cross is now revealed as a promise: that from every death, new life will arise, and in every dark place, light will shine. And so we can cry out, 'Hail, holy cross, our one hope!'
We pray
Lord, in the light of the cross, the symbol of our faith, may we accept our sufferings. Enlightened by your love, may we embrace our own crosses, made glorious by your death and resurrection.
Our Father…
Third Station -- Isaiah 53:4
Jesus falls for the first time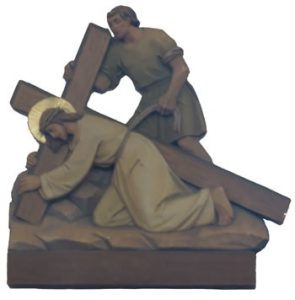 Lord, sometimes we think that having faith in you means never falling in life. Together with you, we also fall. By your courage, you teach us that our failures and falls must never halt our journey, and that we always have a choice: to give up or to get up, in union with you.
We pray
Lord, give us the courage to get up after every fall, as you did on the way to Calvary. Grant that we may always appreciate the great and precious gift of life, and that our failures and falls may never be a reason for throwing it away. We know that if we trust in you, we will be able to get up again and find the strength to keep going, always.
Our Father…
Fourth Station -- Luke 2:34-35
Jesus meets his mother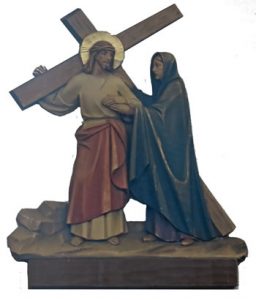 Something we see every day: mothers accompanying their children. Yet Mary is different from other mothers: she is accompanying her son to his death. Mary, now you are sorrowful, but you do not despair. You are radiant even in your sorrow, because you have hope.
We pray
Lord, help us always to keep before our eyes the example of Mary, who accepted her Son's death as a great mystery of salvation. Help us to act with our gaze fixed on the good of others and to die in the hope of the resurrection, knowing we are never abandoned by God or Mary.
Our Father…
Fifth Station -- Luke 23:26
Simon of Cyrene helps Jesus to carry the cross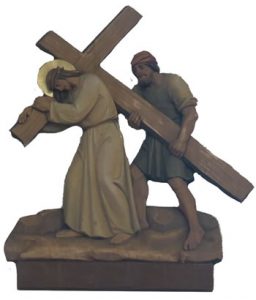 Simon is a stranger from afar. Something unexpected happened, which became an encounter. Every day we encounter new people. In unexpected meetings, there are opportunities to love. We must not forget that there is a Simon of Cyrene ready to carry our cross. We are not alone.
We pray
Lord, give us the courage to be like Simon of Cyrene, who took up your cross. May we be strong in taking up others' crosses; and when we feel alone, may we recognise a Simon of Cyrene who will help bear our burden.
Our Father...
Sixth Station -- Isaiah 53:2-3
Veronica wipes the face of Jesus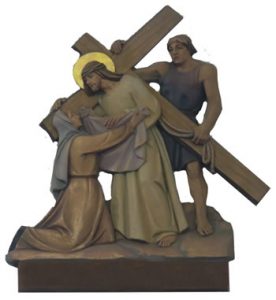 Veronica earned heaven with a simple gesture of love. She approached, saw the Lord's suffering face, and loved him. Veronica loved, unconditionally, a face that was unsightly, marred, unlovely, imperfect. In its very imperfection, the Lord's face showed the perfection of his love for us.
We pray
Lord, give us the strength to approach others -- young ,old, poor, rich, friends, strangers -- and to see your face in them all. Help us never to hesitate in helping our neighbours, in whom you live, as Veronica came to help you on the way to Calvary.
Our Father…
Seventh Station -- Isaiah 53:8-10
Jesus falls for the second time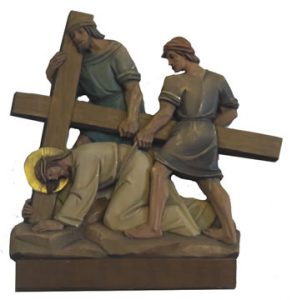 What a strange king Our Lord is, lying in the dust. He gets up so that he can open for us the gates of his kingdom. And by getting up after each fall and continuing his journey, he proclaims his resurrection.
We pray
Lord, help us to get up after we fall; may we learn from our failures. Remind us that when we fall, we can learn to rise again if we stay with you. Teach us to help those who suffer and fall beside us, to wipe away their tears and sweat and pain, and to stretch out a hand to lift them up.
Our Father…
Eighth Station -- Luke 23:27-31
Jesus meets the women of Jerusalem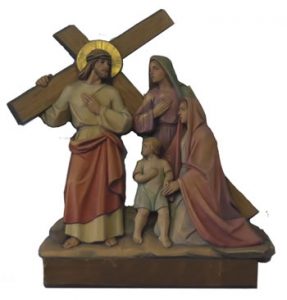 Jesus scolded the women, speaking the truth for the sake of correction, not judgment. His words go straight to the heart of the matter. We see once more the Lord's boundless love for the least, the marginalised, because in Our Lord's time women were not considered worthy of being spoken to.
We pray
Lord, we ask that we may become ever more charitable towards those in need, even as you were. Give us the strength to go against the grain and to enter into authentic contact with others, and not wrap ourselves in sinful selfishness.
Our Father…
Ninth Station -- Isaiah 53:5-6
Jesus falls for the third time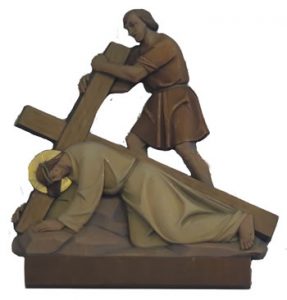 Jesus is exhausted, at a stand-still, and he gets up and continues his walk to death. We fall so often that we lose count. It makes no difference how many times we fall; there will always be one last time, perhaps the worst, when we are called to find the strength to endure to the end of the journey, as Jesus did, to save us.
We pray
Lord, grant us every day the courage to go forward on our journey. May we confront the challenges of life with the strength and the fidelity which were yours in the final moments of your journey to death on the cross.
Our Father…
Tenth Station -- John 19:23
Jesus is stripped of his garments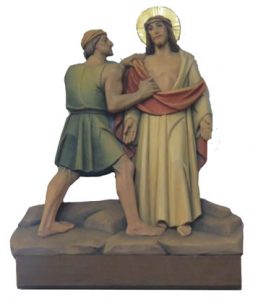 Jesus is stripped of his clothing and of his dignity. Yet, dignity is part of each and every one of us, and it will always be with us. The nakedness in which we are born is the same as the nakedness with which the earth will receive us when we die. In Our Lord we see the splendour of human dignity, the dignity of all people, which no one can erase.
We pray
Lord, help us to acknowledge the dignity belonging to our nature, especially when we feel vulnerable and alone before others. Grant that we may always see the dignity of others, respect it, and defend it.
Our Father…
Eleventh Station --Luke 23:33-34
Jesus is nailed to the cross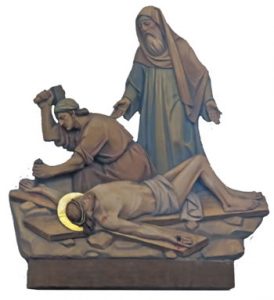 An innocent person, stripped of everything, is nailed to the cross. His suffering is the consequence of his deep belief in his mission and his desire to conform perfectly to the Father's will. He places his trust in his Father. He held no grudge, forgave us, taught us to offer the other cheek and to keep going to the point of total self-giving. We kneel at his feet, drawing strength from him.
We pray
Lord, in the face of injustice, give us the courage to act for good. Set us free from our fears, that, like nails, immobilise us, and stop us living as you call us to live.
Our Father…
Twelfth Station -- Luke 23:44-47
Jesus dies on the cross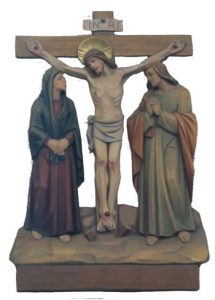 Instinctively, we flee, in panic, before death and suffering. We reject them, we prefer to look away or to close our eyes. The Lord does not try to explain the mystery of death. Rather, he crosses over it completely in body and spirit. It is here in his dying that we see that he loves us as we really are, our Emmanuel, God-with-us.
We pray
Lord, open our eyes to see you also in suffering and in death. Upset our complacency by your cross: shake off our drowsiness. Challenge us always by your disturbing mystery, that overcomes death and gives life and fullness of life.
Our Father…
Thirteenth Station -- John 19:38
Jesus is taken down from the cross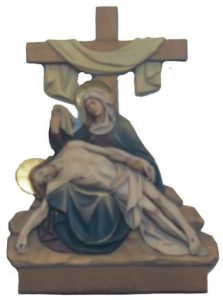 The Lord's lifeless body continues to speak of the strength with which he faced suffering, yet before him, and before us, opens a new, heavenly, life. This life is marked by the one thing that remains unbroken by death: love. He is here with us at every moment, at every step, in every uncertainty, in every shadow. We trust that his light will shine once again.
We pray
Lord, keep hope ever alive in us, along with faith in your unconditional love. Grant that we may continue, to fix our gaze on eternal life with you, and thus find refreshment and peace on our journey.
Our Father…
Fourteenth Station -- John 19:41
Jesus is laid in the tomb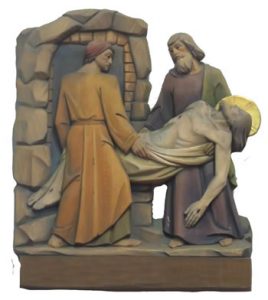 The day is dying and Our Lord is sleeping in death. Joseph of Arimathea carries him, and he sleeps in peace, as he did on the straw when he was wrapped in swaddling clothes and another Joseph held him in his arms. Just as there was no room for him then, now again he has nowhere of his own to lay his head.
We pray
Lord, grant that, in our weariness, we may find rest and peace in you, and see, in the love of your sleeping face, the beauty we have lost.
Our Father…