St Bede the Venerable
25 May

St Bede is not a particularly well-known saint in New Zealand.
Bede was born in the north of England, near the monastery of Wearmouth. He joined that monastery at the age of seven, and spent all his life there or at Jarrow, teaching and writing. Regarded as the outstanding Church author of his time, Bede is especially remembered for his commentaries on Scripture and an ecclesiastical history of the English people, which is 'the' resource for much of early English history. He died at Jarrow on 25 May 735.
There are very few schools or parishes dedicated to him in New Zealand, with St Bede's College in Christchurch and the Church of the Venerable Bede (Anglican) in Shannon being two notable exceptions.
The Founder of St Bede's College, Bishop Grimes, had his reasons for choosing Bede as the patron of the college.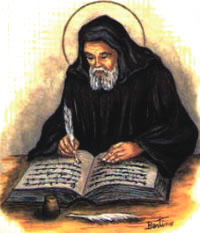 Chief amongst these, of course, was an awareness of the strong English connection in Christchurch and the place Bede had in English learning. Nor was it insignificant that Grimes was himself English and the thought of an English saint in amongst the many Irish saints names already prominent in NZ Church circles must have had its appeal!
But the appeal of St Bede is not limited only to those with an English or educational background.
Bede has also had a profound influence on Pope Francis – indeed, from the days well before he became Pope.
When he first became a bishop, Jorge Bergoglio, as Pope Francis then was, chose as his motto the words: miserando atque eligendo.
This phrase comes from a passage by the Venerable Bede, writing on the Feast of St Matthew, where he says: Jesus therefore sees the tax collector, and since he sees by having mercy and by choosing, he says to him, "follow me".
The fact that Pope Francis chose to keep the same motto when he became Pope tells us a great deal about the high regard in which Pope Francis holds St Bede. That regard, of course, has spilt over into practical application with the great emphasis Francis has placed on mercy throughout his time as Pope.
It is particularly fitting that Bede's feast-day falls in the month of May.
In another of his writings, his 'Commentary on Luke', we also see clearly his deep appreciation of, and devotion to, Mary:
"Mary looks back to the beginning of her song [the Magnificat], where she said: My soul proclaims the greatness of the Lord. Only that soul for whom the Lord in his love does great things can proclaim his greatness with fitting praise and encourage those who share her desire and purpose, saying: Join with me in proclaiming the greatness of the Lord; let us extol his name together."
St Bede may not be particularly familiar to many New Zealanders and you may not come across his name often travelling about the country but he is, I'd suggest, well worth getting to know better.