St Joseph – 19 March
The 'foster father of our Lord,' Joseph was also his legal father, and it was through Joseph's genealogical line that Jesus belonged to the house of David. St Teresa of Avila said that "to other saints, our Lord has given power to help in one sort of need, but this glorious saint helps us in every need, as I know by experience." Pope Pius IX declared Joseph patron of the whole Church in 1870.
Servant of God Dorothy Day, the co-founder of the Catholic Worker movement, was a devotee of Joseph: "We have placed our troubles in the hands of St Joseph. I burned a candle before his altar yesterday morning and contemplated the gallant figure of the workman saint as he stood there, his head flung back, his strong arm embracing the Child, a smile on his face as he looked down at the congregation of kneeling workers at Mass."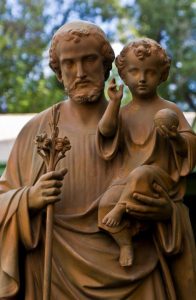 St John Paul II said that Joseph's dedication to the welfare of Mary and Jesus "fully shares in true human fatherhood and the mission of a father in the family."
Pope Emeritus Benedict spoke of Joseph as the model of the "just" man (Matthew 1:19), who in perfect sympathy with his spouse, welcomes the Son of God made man and guards over his human growth. Reflecting on the silence of St Joseph, Benedict says that "it is no exaggeration to say that it was from his 'father' Joseph that Jesus acquired - on the human level - that robust interiority which presupposes authentic justice ... which He would one day teach to his disciples (Matthew 5:20).
Pope Francis sees St Joseph as "the man who doesn't speak but obeys, the man of tenderness, the man capable of carrying forward the promises so that they might become solid, certain; the man who guarantees the stability of the Kingdom of God, the paternity of God, our status as children of God. I like to think of Joseph as the guardian of weaknesses, of our weaknesses too: he is able to give birth to so many beautiful things from our weaknesses, even from our sins."
Pope Francis has made it known that when he has a problem, he writes it on a piece of paper and puts it underneath a statue of a sleeping St Joseph which he has in his room. "Now St Joseph sleeps on a mattress of notes!" and the Pope "sleeps well, by the grace of God!"
The founder of the Society of Mary, Fr Jean-Claude Colin, whose Cause for Beatification is described in the article on page 9 of this issue, had a significant affection for and devotion to St Joseph. He saw St Joseph as a special protector of the Society, and urged the early Marists to "go to Mary through Joseph, to Jesus Christ through Mary, and to God the Father through our Lord Jesus Christ" (A Founder Speaks, 116 [5]). He instructed that the base of Mary's statue in Marist houses be inscribed with the words, "Queen of this house;" and that the base of the statue of St Joseph carry the words, "Guardian of this house" (FS 123).
He urged Marists to trust St Joseph, believing that they would "never go in want for necessities, if they had recourse with confidence and without doubting to St Joseph, to the Blessed Virgin" (FS 166 [3]), and when good things happened he attributed "everything to God, to the Blessed Virgin and St Joseph" (A Founder Act 368 [18]).
It seems to me that Fr Colin's advice to Marists is entirely appropriate for the whole Church.
St Joseph, foster father of the Lord and faithful husband of Mary, pray for us.