Over the Hill and into the Valley
Yea, though I walk through the shadow of the valley of death, I fear no evil for the Lord is with me -- Psalm 23.
My husband just celebrated his seventy-ninth birthday, and my own is just a few months away. How did we get here? I look at him and I still see the young handsome man I married, yet when I look at myself I see the wrinkles, AKA laugh lines, and I wonder what happened.
We move more slowly, and we tire more easily. In reality, we know we are approaching the end of life's journey, but what a great run it has been. There has been sadness and tears, as in any life, but there has also been much joy. I find I am at great peace as I think about the "golden years." This passing of time has been a catalyst for thinking about the experience of meeting the Lord.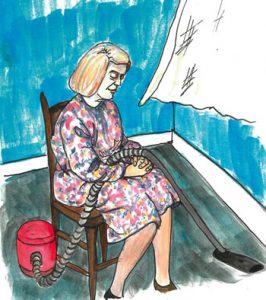 How does the passing of the years enter into my spiritual journey? As with any journey, there has to be foresight and planning. I have decided I do not want to waste any of my remaining days and hours commiserating about my gradual decline. In Psalm 3I, the psalmist says, "Take pity on me, Yahweh, I am in trouble now. For my life is worn out… my strength yields… my bones are wasting away." That psalmist knows what I am dealing with! It seems that the guarantees are ready to expire on the joints, the muscles, the organs and practically everything else. I don't say this in a morbid sense, but pragmatically, based on the reality of life. We do not live forever, and time marches on.
At the same time, I do not want to rant and rave about the things I can no longer do, nor do I want to be constantly worrying about whether or not the breast cancer will reoccur. I don't want to be a worrisome, crabby, cranky old lady, so I have to internalise a method of addressing the rather persistent aches and pains and the endless doctor visits.
After much prayer and consideration, I have decided that I will make those limitations work for me rather than against me. I choose to let the physical limitations, the now routine aches and pains act as my own personal call to prayer. Even as the muezzin calls his fellow Muslims to prayer five times a day, I have chosen to allow my personal aches and pains to be my call to prayer. When they flare up, they serve as a gentle reminder of God's gracious gift of years. Each ache reminds me that God has blessed me with a multitude of days and I am so very grateful. Gratitude cannot help but elicit a prayerful response. How mysterious are God's ways!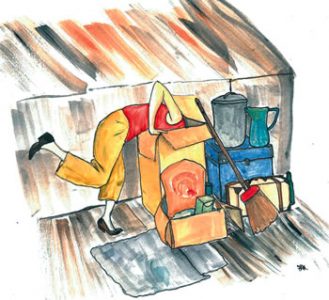 I now hope that my new-found resolve does not go the way of many new year's resolutions, which is down the drain. Again, the psalmist comes to my aid as he clearly articulates my hopes. In Psalm 51, he prays, "God, put into me a new and constant spirit. Renew my joy, and keep my spirit steady and willing." I hope and pray that I will continue to rise above the aches and pains, but if I occasionally -- I hope, only occasionally -- fail, the Lord will know that I want to respond prayerfully, and I will try again. I will try to keep my spirit steady and willing.
After prayerful reflection, I also realise that my almost forty years of praying together with friends has contributed greatly to my ability to glimpse the Divine in the letting go. Over the years, our group has shared spirituality, allocating insights concerning each individual faith journey. Their collective wisdom has challenged me and enabled me to look more deeply into my own situation, and I am forever grateful.
The results of those years together have not always been immediately evident, but as I take stock of where I am at the moment, I realise how valuable the journey has been. The spiritual sharing has helped me to move along so that I am now able to see opportunity in the face of adversity. I am now able to understand more fully that letting go is a necessary part of spirituality, and I am able to embrace it.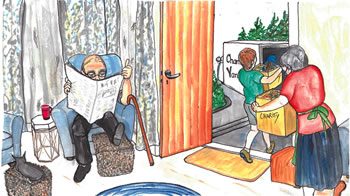 As I address these rather delicate issues, I realise that I have also had wonderful role models. When my daughter's breast cancer was preparing for its final assault, my grief was palpable. She reassured me, saying, "Mom, please stop! I have had a wonderful life, and I am ready." For ten years, she fought against the disease, but she finally died at age forty-nine. When my dear sister-in-law recently passed away, she also gracefully, prayerfully, and courageously, accepted her situation. Their grace, courage and acceptance of what was to come, inspires and challenges me. Even though the details and specifics of my situation may be different from theirs, I will do my best to be as courageous and as accepting of the inevitable. "I will fear no evil for the Lord is with me" Psalm 23.
As I move forward, I realize that in order to contend with the sunset of my life, I need to tap into my foresight and planning resolve! In addition to maintaining a spiritual perspective on my physical limitations, as well as the other health issues, I also want to leave my 'things,' my worldly goods, in order. I realise this is a significant challenge. What do I toss? What do I keep? I feel as if the wisdom of Solomon will be needed! But, I will do what I can do with the time I have left in order to leave this world without leaving a mess behind.
It is time to move on to the practical aspect of letting go. For starters, I am now focussing on the purging of possessions, anything that is in excess of necessary. I have hired my ten-year-old grandson to help me to clean out closets, the china cabinet, and even the basement. Many of these items have served me well, but it is time for them to move on, either to the garbage heap or to an agency which will distribute them to others. I still cannot believe how much 'stuff' has accumulated over the years.
We go up and down the basement again and again. Occasionally, I will hear Tommy exclaim, "Grandma, it takes you ten years to come up the stairs!" True enough, but I manage. All in all, this purging has been a very positive experience. I pack up the items to be donated, preparing them for the local Vietnam Vets' Association pick-up. I say a prayer over each carton, hoping that the person receiving this item will enjoy it or find it useful. It is really a wonderful experience of letting go, all in preparation for the final letting go.
The operative word is now gratitude. Tommy and I have spent quality time together and he enjoys the money earned. Better yet, I love being free of what is, at this time in my life, excess. I find I am becoming a minimalist, and it is very freeing. Thankfully, my husband is totally supportive of my purging agenda!
Additionally, I have my legal papers in order. I am a rather compulsive list maker, so I have included detailed lists of what is in each room to make it easier for the family to make the final wrap-up. I am sure there are still unknown and miscellaneous loose ends which need to be addressed, but, at the moment, I have done all I can do. I have tried to put my life in order so that, when I am gone, the family will not have to spend days, weeks and months, trying to decipher what is remaining. My husband said he will be grateful in the event I predecease him! If it is the other way around, he says it won't impact him at all! We have been blessed to be able to have a few laughs as we deal with such serious topics.
This journey has been a wonderful gift, well worth the aches and pains. I am so grateful for the gift of years! I have always believed that much of what happens to us in life is beyond our control, but attitude is something which can always be addressed. For me, it has taken much spiritual work to move to gratefulness in the face of adversity, but it was well worth the journey. Thank you, God. I must go. My legs ache, and I am being called to prayer!
If the only prayer you ever say in your life is thank you, that will suffice --
Meister Eckhart, German priest and theologian, 1260-1328