Père Denis Jacquin sm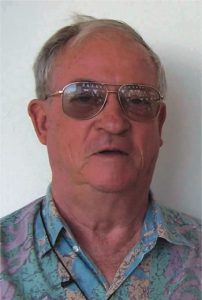 Born in Glay (Doubs), France, 15 November 1934
Professed 14 September 1953
Ordained 25 February 1961
Died at Ma Maison, Nouméa, 28 September 2017
Père Denis Jacquin was born in the east of France, in Doubs, an area known for its harsh climate. He was the third of eight children. Sixty-four years ago, in 1953, he responded to the call of God and to Mary's gracious choice, leaving his human family, and joining a religious family bearing the name of Mary. His formators described him as "a man of character."
His studies for the priesthood were interrupted by two years' military service, including 15 months as a sergeant in Algeria during the war of independence. The flags on display in St John the Baptist church are a reminder of this painful time in his life.
Before the realisation of his dream to minister in Oceania, he taught for two years at l'Externat de Lyon. Among the students there was a certain Michel Calvet, whom he would meet again much later in New Caledonia. (Msgr Michel Calvet sm is Archbishop of Nouméa, New Caledonia.)
In total, Père Denis spent fifty-four years in Oceania, ten in Wallis and forty-four in New Caledonia.
In a way, the most fruitful years of Père Denis' ministry were those spent at St John the Baptist Parish in Nouméa. There were numerous pastoral and social initiatives, such as the 'Fraternal Table,' the establishment and support of evangelisation groups, the building of the Church of Hope in the Portes de Fer, and of the St John Paul II Home, which he did not have time to finish.
At the beginning of 2012, Père Denis realised that he was physically unable to continue his ministry, resigned as parish priest, and retired to Ma Maison, the Little Sisters of the Poor Home. To 'let go' was certainly the most difficult decision he had ever made. His last years were a slow and painful purification of his apostolic spirit. He had always been ready to embark on new adventures, even as his strength failed him. Mary, his first and perpetual Superior, walked with him on the way of the cross, the road of his life. He renewed his vows and received the sacrament of Anointing on 27 September, before falling peacefully asleep in the Lord, surrounded by a few faithful friends.
In the opinion of those who knew him, Père Denis was a Marist confrère on fire for the 'work of Mary' and a visionary. He was a friend, a confidant, a soul companion, a loved and respected pastor, a source of help; and a fosterer of lay, diaconate, priestly and religious vocations.
Like Our Lord, he was the friend of the poor and the small. He was a happy blend of Mary and Martha -- a man of prayer and a man of action. He was also a poet, especially when he suffered from bouts of insomia. His very rich personality left no one indifferent. Someone said to me yesterday, "he loved everyone," and this was the thread running through his life – he loved everyone.
Père Denis, thank you for everything you brought us. Your task is not complete. Like St Thérèse of Lisieux, spend your heaven doing good on earth. Help us today to respond to the promptings of the Spirit, as you did.
Appointments
1961-1963
Educator at St. Mary's Day College, Lyon
1963-1970
Wallis, Teacher and Educator at Lano Seminary,
Assistant at Hihifo Parish.
1971-1972
Wallis, Administrator of the Cathedral at Mata'Utu
1973-1978
New Caledonia, Moderator of the East Coast Apostolic Unit -- Tyé-Ponérihouen, Touho and Hienghène parishes, as well as Téouty-Ponérihouen from 1974
1978-1988
North Pastoral Team -- Pouébo parish, then Bondé and Belep island parishes
1988-1990
South Pastoral Team, Saint-Louis and Touaourou parishes, and Lifou island
1991-2011
Parish Priest of St John the Baptist Parish, Nouméa, and Maré island from 1999
2012-2017
Retired at Ma Maison, Little Sisters of the Poor Home, Nouméa
Sincere thanks to Père François Grossin sm for the information in this tribute to Père Denis.