104th World Day of Migrants and Refugees
14 January 2018
Statistics about refugees and migrants are mind-boggling and horrendous.
The United Nations Refugee Agency calculates that 65.6 million people were forced from their homes in 2016. Among them were nearly 22.5 million refugees, more than half of whom were under the age of 18. Of these, about 8 million were being hosted in Ethiopia, Uganda, Iran, Lebanon, Pakistan and Turkey. 28,300 people every day, almost 20 people every minute, were forced to flee their homes as a result of conflict or persecution. In the face of this turmoil, only 189,300 refugees were resettled, less than 0.85% of the total.
In the same year, there were also 10 million stateless people who had been denied a nationality and access to basic rights such as education, healthcare, employment and freedom of movement.
Pope Francis has spoken often and forcefully about the dreadful predicament of many refugees and migrants. He speaks of "the lamentable situation of many ... fleeing from war, persecution, natural disasters and poverty." "For the time being," he has taken personal responsibility for the section in the Dicastery for Promoting Integral Human Development (DPIHD) concerned with "migrants, displaced people, refugees and victims of human trafficking."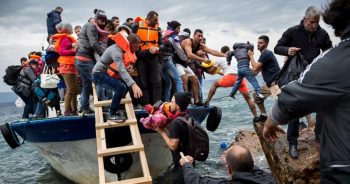 In his message for the World Day of Migrants and Refugees, the Pope writes of welcoming, protecting, promoting, and integrating those who "leave their homeland in search of a better future."
He says that welcoming means, above all, ensuring that refugees and migrants are supported to go safely and legally to "destination countries." Protecting is to be seen as putting in place the steps needed so that the rights and dignity of migrants and refugees are safeguarded. Promoting is concerned with making sure that migrants and refugees are enabled to achieve their full potential as human beings. And integrating is concerned with "the opportunities for intercultural enrichment brought about by the presence of migrants and refugees ... a lengthy process that aims to shape societies and cultures, making them more and more a reflection of the multi-faceted gifts of God to human beings."
Pope Francis goes on to say that the Church is committed to these initiatives, and points out that "the contribution of political communities and civil societies is indispensible" in responding to the challenges of contemporary migration.
At the end of his message for 14 January, which was promulgated on the Assumption Day in 2017, Pope Francis wrote, "The Holy Mother of God herself experienced the hardship of exile (Matthew 2:13-15), lovingly accompanied her Son's journey to Calvary, and now share's his glory eternally. We entrust the hopes of all the world's migrants and refugees and the aspirations of the communities which welcome them, to her maternal intercession, so that, responding to the Lord's supreme commandment, we may all learn to love the other, the stranger, as ourselves."
New Zealand received its customary annual refugee quota of 750 refugees in 2015-16: 300 from the Asia-Pacific region; 300 from the rest of the world, of whom 83 were from Africa, 82 from the Middle East, and 135 from the Americas; and up to 150 'transferees, subject to offshore processing in Australia.'
In the light of the refugee and migrant crisis, could we not do more than this?