Père Robert Janique sm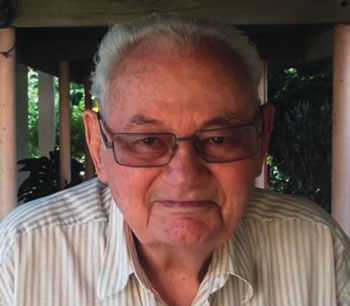 Born in Lyon, France, 22 March 1923
Professed 2 February 1945
Ordained 25 February 1951
Died in Port Vila, Vanuatu 12 August 2017
Fr Robert Janique's priestly vocation goes back to a pilgrimage to Notre Dame de Fourvière with his parents. He did not think of joining the Marists, whom he knew, because he did not wish to be a teacher. Then he found out that the Marists were missionaries in Oceania.
In September 1942, having attained a baccalauréat in Mathematics, Robert joined the novitiate at La Neylière, along with a dozen former students from St-Chamond. He had to wait until February 1945 to make his first profession, because between times he was called up for a paramilitary youth camp from March 1943 until November 1944, and then recalled to military service in January 1945. Having been given permission by Monsignor Roncalli, the Apostolic Nuncio, he made his first profession on 2 February 1945, before joining the army the next day.
Released from military service in January 1946, he entered the Seminary of the Missions of Oceania at Sainte-Foy-lès-Lyon, and was ordained by Cardinal Gerlier in 1951.
He arrived in Port Vila, Vanuatu, in November 1951. When he arrived, the bishop informed him that he was appointed to Montmartre Catechist School – exactly the kind of work he did not want to do! It was there that he experienced his first hurricane, on Christmas Eve 1951, a real 'baptism of fire' in the presbytery toilet where he took refuge; a nightmare, and a scene of desolation in the morning. Once the school was rebuilt for the fifty or so student catechists, he adapted very quickly to the rhythm of school life: classes, work in the plantation, producing copra, maintenance, hunting wild pigs.
Having been appointed to Port Vila in 1955, he enlarged the old cathedral, installing a stained-glass window depicting the Sacred Heart in the midst of the New Hebrides. This window is now above the entrance to the new cathedral built in 1975.
In 1964, Fr Robert became Regional Superior of the Marists, and the first Director of Catholic Education in Vanuatu. This led to his being named Knight of the Order of Academic Palms, a national order in France and in French territories, in 1965.
Fr Robert made an inestimable contribution to the development of the catechists' school during his long years there, and to the parish of Port Vila, dealing with new pastoral needs as they arose. Despite his lack of knowledge of the national language, Bislama, he tried to meet these needs with the help of the assistant priests who worked with him. Eventually he managed to understand pidgin, without really mastering it.
In 2009, Fr Robert retired to the Regional House of the Marists in Paray, a suburb of Vila. He was a lovely host for all those passing through. He spent many hours on the computer, having learned to use it late in life, stayed in touch with the outside world and his family in Lyon, and gave great service to the diocese by computerising thousands of records of Baptisms, Marriages, etc.
Fr Robert had a great love of the Society of Mary, and trusted in Mary, his 'first and perpetual Superior,' to guide and to prevent any missteps. He gave 65 years to Vanuatu, his other great love. Robert, go in peace. Our fraternal prayers are with you as you cross to the other side.
Appointments
November 1951 - Oceania, appointed to Vanuatu
1951 - Montmartre, Vaté, teacher, then Principal
1955 - 1964 - Port Vila, Vaté, Cathedral, Parish Priest
1960 -Second Novitiate, Differt, Belgium
1964 - 1976 - Diocesan Director of Catholic Schools
1965 - 76 - Principal, teacher at Montmartre, Regional Superior until 1970
1976 - Port Vila, Cathedral, Parish Priest
1977 - Wallis & Futuna, Diocesan Director of the Catholic Schools
1978 - 1983 - Port Vila, Cathedral, Parish Priest, Bishop's Secretary and Regional Bursar
1984 - Director of Foyer Julliard and Montmartre Chaplain
December 1985 - Port Vila, Cathedral Parish Priest, Bishop's Secretary/Chancellor until 1990
1990 – 2008 -St. Michael's, Luganville, Santo, Parish Priest, School Chaplain, Procurator, Vicar General for Bishop Lambert, then for Bishop Visi
Feb 2009 – 2017 - In retirement, Paray Regional Community, Port Vila
Many thanks to Père François Grossin sm for this tribute to Père Robert.