Bearing Witness to God
In 2013 the English translation of Open Mind, Faithful Heart by Pope Francis was published. The book had appeared previously in Spanish, as a collection of writings of the then Cardinal Bergoglio, as he prepared for retirement from his role as pastor of the Archdiocese of Buenos Aires.
In the section 'Manifestations of Light' he writes about 'Passing on the Faith.' This beautiful chapter deserves to be read over and over to absorb its depth of meaning. He describes for us many Scripture references to bearing witness to God and reminds us, that by doing so ourselves, we "produce light that provokes joy, and from the joy flows glory." His final statement is that following Jesus "requires the preparation of a lifetime."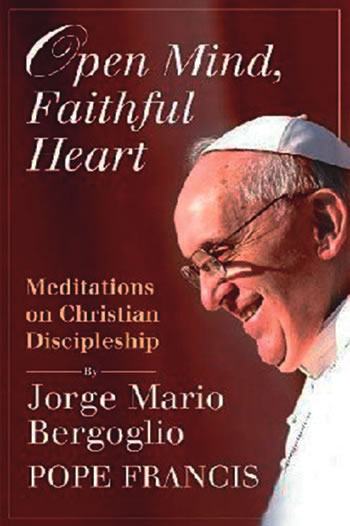 However, the most striking aspect of this chapter is his prayer at the end:
Seeing God in creatures,
Seeing God made mortal,
Seeing celestial beauty in humble human attire,
Seeing joy weep tears, seeing wealth so poor,
Seeing greatness brought low, and seeing that so was God's desire.
Great was the mercy we received that most blessed day!
Whoever sees it, let it be I!
Making peace amid so much war,
Bringing warmth to such great cold,
Letting what is mine belong to all,
Planting heaven here on earth.
What a magnificent mission God has
entrusted to our hands!
Whoever does it, may it be I! Amen.
How prophetic was this prayer, written many years before, but answered for Pope Francis, and for all of us, on 13 March 2013. Now let us all pray for the same gifts of vision and mission in our own lives.