Fr Peter Walsh sm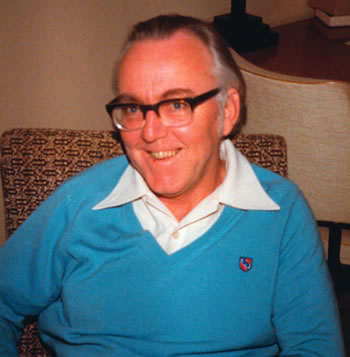 Born in Auckland, 29 January 1931
Professed 24 January 1958
Ordained 07 July 1962
Died in Whangarei 26 July 2017
Peter was Baptised in Grey Lynn, Auckland, on the 12 April 1931.
He received his early education from the Mercy sisters and the Marist Brothers in Auckland and became a carpenter when he left school.
In his early twenties, Peter literally went back to school. He travelled all the way to St Bede's College in Christchurch, for the express purpose of learning Latin in preparation to enter the Marist Seminary. Peter told me only recently, there were no concessions or privileges – he lived exactly the same as students several years younger. Such was his strong desire and commitment to enter Religious life and Priesthood.
Peter was ordained a priest here in Whangarei on the 7th of July 1962 and celebrated his Golden Jubilee here in 2012.
After ordination, Peter was a teacher for 17 years; at St Patrick's Wellington, then at St John's in Hastings, then St Patrick's Silverstream, where he was my maths teacher in the fourth form.
My memory of Peter is of his kindness and care but he was strict. One daren't play up with Fr Peter.
Peter's last teaching appointment was back here at Pompallier College from 1977 to 1980.
In 1981 Peter had a change in apostolate when he moved topParish ministry at St Mary's Parish in Blenheim. Then, only a year later, he was appointed to the team of a combined Marist family project at Marcellin Hall in Auckland. There he directed renewal courses for Marist religious which drew many participants from Australia and the Pacific Islands as well as New Zealand.
Peter was an inspiration in his openness, generosity and trust in accepting appointments that he might not have felt he had any specific training for.
After six years at Marcellin Hall, Peter was called to Wellington to become the Provincial Bursar, Executive Secretary and the Superior of the Provincial House of the Society of Mary. Having been a maths teacher, clearly he could do his sums.
The various roles that he undertook singlehandedly, now require several people. If that were not enough, it was Peter who oversaw the planning and building of a new Provincial Office and residence in Hobson Street in Wellington.
At the completion of his service in Marist Administration, he moved next door to another Marist Community but as Peter himself wrote "debilitating arthritis forced him to retire." This was to be a cross in his life.
It was twenty-six years ago, aged 61, that Peter returned to Whangarei. As most know, he lived alone in what had been his mother's home in Second Avenue. Then, only three years ago, he moved to the care of Cairnfield House Rest Home.
But these were not idle years!
Despite the physical pain he endured, where possible he supported the parish ministry here. Right to the end of his ministry he was a witness of fidelity to prayer, to optimism and to perseverence.
Some years ago when I visited Peter in Second Ave, he said to me "my one companion is pain." Yet whenever I visited Peter and again in the last 18 months, on my return to Whangarei, a knock on the door was always responded to with a clear, warm and welcoming "hello."
I know many people, myself included, received from Peter very wise counsel, wisdom and encouragement. So in fact Peter's ministry and sharing in the mission of the Church never ended.
Rest in peace Peter.
Rest free from the cross of pain you patiently endured for so many years.
Rest in the love of the Lord and our Blessed Mother whom you served faithfully all your life.
Thanks to Fr Christopher Martin sm for this abridged version of his eulogy.
Appointments
1963-1964 St Patrick's College, Wellington
1965-1970 St John's College, Hastings
1971-1976 St Patrick's College, Silverstream
1977-1980 Pompallier College, Whangarei
1981-1982 Blenheim Parish
1982-1987 Marcellin Hall, Auckland
1983-1987 Director of Marcellin Hall
1988-1991 Provincial House, Wellington, as Provincial Bursar, Executive Secretary and Superior
1990-September 1991 resident at Marist Centre, Wellington
1992-2013 Whangarei in retirement
2014 Cairnfield Rest Home, Whangarei