Fr Kevin O'Donoghue sm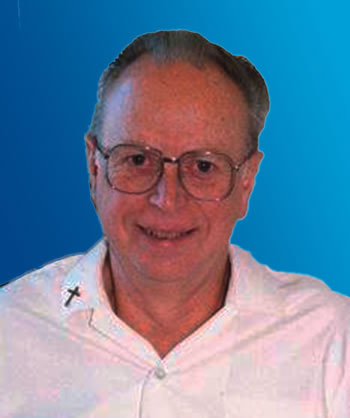 Born in Hastings, 5 January 1926
Professed 11 February 1946
Ordained 17 December 1950
Died at the Home of Compassion, Silverstream, 31 July 2017
It is said that Kevin cut quite a figure in Hastings as a youngster: bright eyed, bursting with musical ability, playing the piano for all sorts of activities. After Hastings convent, he attended St Patrick's, Silverstream, from 1941 until 1943, entering Greenmeadows seminary in 1944.
His musical strengths were noted, and I quote: 'Second Term Concert 1949, Autumn, by a modern French Composer, descriptive work for the piano reflecting various moods of Autumn and was rendered con molto espressione, to an appreciative audience by Br K O'Donoghue.'
Kevin was a fine preacher, with a voice full of expression and colour, intent on winning the hearts and souls of his listeners. He was always well-prepared and up-to-date with his theological and spiritual reading.
His Australian confrères thought much of him, certainly as a missioner, and also on the personal level. Fr Tony King recalls with great respect the eulogy Kevin preached at the memorial Mass for Cecil Crocker, a somewhat awkward situation handled with great tact, diplomacy, and gentleness.
At St Mary's in Christchurch, we find the parish man in his prime. Gently but firmly, he brought about the changes subsequent to Vatican II. The creation of the Blessed Sacrament chapel, a separate room but connected to the main church, was innovative, loved for its intimacy, quiet, and warmth in winter. He was well-read regarding the Council and developments and preached the same, involving lay people and establishing a Parish Council. Truly a gentle, wise, loved and seemingly all-knowing pastor of the flock. Here the nickname 'God' was sometimes heard, though quietly!
Back at St Mary of the Angels again, he is the consummate pastor, implementing Vatican II, vitally involved in all parts of the parish and building lay involvement. He had the foresight and wisdom to employ Sister Frances Gibbs csb to assist in pastoral outreach, and Sister is still a member of the parish team.
Kevin O'Donoghue was a natural leader, kind, and with good vision and able to implement that vision with well-directed help.
Kevin's 16 years at Marist Centre are, perhaps, the golden years. Mellowing, mostly, able to spend time with friends, and engage in the activities he loved – particularly music, gardening and cooking.
Kevin knew pain, too, though not with a lot of complaining. Back and hip and cancer treatment kept him aware of his mortality.
The final graces of a much-graced life were evident in Kevin's last weeks. Faced with death, he accepted it calmly. He did say to a visitor, "No, I am not scared. But let's get this over as quickly as possible!" Of course, the environment and personal loving care of the Sisters and staff were a significant help. Sisters, thank you once again for the loving care of a Marist.
Kevin, you have enriched us by being among us. You've proclaimed the Good News by your good life. You've been a good man, priest and Marist, brother and friend. May God be good to you, and may Mary welcome you home.
Thanks to Fr John Walls sm for this abridged version of his eulogy.
Appointments
1951-May 1955 St Mary of the Angels, Wellington
May 1955-1957 St Bede's College, Christchurch
1958 Mission House, Hobson Street, Wellington
1959-1960 Mt Albert, Missions
1961-1963 Hobson Street, Missions
1964-1965 Mt Albert, Missions
1966 Brisbane Mission Staff
1967-1972 Melbourne Mission Staff, Superior
1973-1974 Mission House, Hobson Street, Wellington
1975-1980 St Mary's, Christchurch, Parish Priest and Superior
1981-April Hastings parish
April 1981 Renewal in Wales and Ireland
1982-1983 Futuna Retreat House, Wellington
1984-1988 Mt Albert, Parish Priest and Superior
1989-1994 St Mary of the Angels, Wellington, Parish Priest and Superior
1995 to August Resident at Cerdon, Wellington
1995-1998 Moxham Avenue, Hataitai, Wellington, Superior in 1997
1999-2013 Marist Centre, Wellington
2014 Alexandra Rest Home, Wellington
2015 Home of Compassion, Silverstream