Cherishing hope when pregnancy doesn't go according to plan
Family Life International
"Whoever receives one such child in my name receives me; and whoever receives me, receives not me but him who sent me." Mark 9:37
A tiny new-born boy snuggles close to his mother, eyes closed and cheek pressed close to her arms. His body gently moves up and down with each precious breath. His mother cherishes the moment, taking in his sweet baby smell and enjoying the softness of his tiny body in her arms.
But, there was a time, only a few short months ago, while still tucked away in his mother's womb, when little Jonathon's life was in grave danger.
Jonathon's mum, Amelia, had attended her routine 20-week pregnancy ultrasound scan prepared to see her son jumping around the computer screen sucking his thumb. However, the news Amelia and her husband Paul received that day was not what was expected.
Amelia was told that her pre-born son had Down syndrome. That, coupled with heart complications, led the medical professionals to strongly suggest to Amelia and Paul that their best and most compassionate option was to terminate the pregnancy.
Having been brought up in a Christian home, Amelia was torn. She knew that her son's life was precious and a gift, but the future looked so uncertain. Fear of the unknown gripped her. How would she care for a child with Down syndrome? What if his heart condition was as bad as the doctor was saying? How would she cope? An abortion seemed like the only real option she had.
Searching desperately online one evening for help, Amelia found Family Life Pregnancy Centre, a service outreach of Family Life International NZ, and discovered that there was help for her in her situation through their Therese Programme.
Amelia promptly called Colleen and was relieved when she found the friendly support she was searching for.
Therese Programme
Family Life International NZ has been serving pregnant women facing unexpected and challenging pregnancies for twenty-five years through their Family Life Pregnancy Centre.
Prenatal screening for conditions such as Down syndrome, Spina Bifida, heart problems and a variety of life-limiting conditions has increased over time, with medical professionals finding, and implementing, new methods such as blood tests very early on in pregnancy.
"Screening can be an excellent tool to assist families in providing life-saving treatment and for ensuring the best outcome when difficulties within the pregnancy arise" explained Dame Colleen Bayer, Family Life International's Founding Director. "But too often mothers and fathers are heavily pressured to abort their precious baby."
As a mother of five - mostly adult - children reaching out to abortion-vulnerable mothers and their families has been a mission that Colleen has always held dear to her heart. Four of Colleen's children are adopted and each have their individual joys and challenges. Two have Down syndrome.
Dame Colleen's hands-on experience of parenting children with special needs and offering support care to many others, helped her identify the need to reach out and support mothers, fathers and the wider family at an incredibly vulnerable and heart-wrenching time.
"Mothers and fathers are very vulnerable when they receive an adverse diagnosis during pregnancy," noted Colleen. "They want what is best for their baby and it can be a very confusing time with many mixed messages."
Through the Therese Programme friendship, advocacy and support is offered to families whose unborn child has been diagnosed with a physical and/or intellectual impairment or a life-limiting condition. Families, who have walked a similar journey, are available to discuss the reality of the situation and to offer hope.
"Our aim," Dame Colleen says "is to offer support and assist families to love, protect and nurture their child in what is a very uncertain time."
The Outcome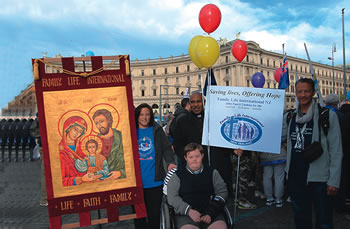 Just months ago little Jonathon's life was in grave danger simply because he has Down syndrome and he was not yet born. Now he is thriving. His parents, Amelia and Paul, are overjoyed with the gift of his precious life. There are still uncertainties about his health, but with a firm friendship now established with Colleen and the team at Family Life International through the Therese Programme, Amelia and Paul know that they can face the future without fear and cherish each moment with Jonathon.
A prenatal diagnosis of a physical or intellectual impairment or a life-limiting condition need never be the reason for despair. Even in the uncertainties, hope exists and with the right kind of support and advocacy, parents can be assisted to continue to love, protect and nurture their precious unborn infant.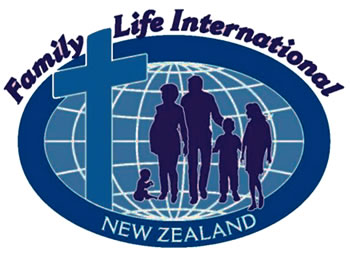 To find out more about the Therese Programme, or to see how you could be involved please contact Dame Colleen Bayer col.fli@xtra.co.nz