August Saints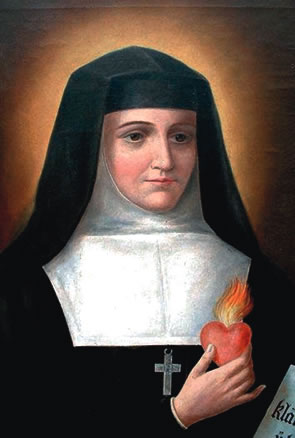 Saint Jane Frances de Chantal (1572-1641)
Jane Frances was wife, mother, nun and founder of a religious community. Her mother died early and her father became the main influence on her education. She developed into a woman of beauty and refinement, lively and cheerful in temperament. At 21 she married Baron de Chantal, by whom she had six children, three of whom died in infancy. At her castle she restored the custom of daily Mass, and was seriously engaged in various charitable works.
When Jane's husband was killed after seven years of marriage, Jane's father-in-law insisted she return to his home. Jane managed to remain cheerful despite his vanity, fierceness and extravagance.
When she was 32, she met Saint Francis de Sales who became her spiritual director. Jane wanted to become a nun but he persuaded her to defer this decision. She took a vow to remain unmarried and to obey her director. Under his direction, she founded the Visitation Order, whose members were primarily intended to exemplify the virtues of Mary at the Visitation: humility and meekness.
The congregation began when Jane Frances was 45. She underwent great sufferings, including interior anguish, darkness and spiritual dryness. She encouraged the local authorities to make great efforts for the victims of the plague and put all her convent's resources at the disposal of the sick. She died while on a visitation of convents of the community.
Saint Jane Frances, help us to persevere in our efforts to do good.
(Source: http://www.americancatholic.org/features/saints/saint.aspx?id=1111)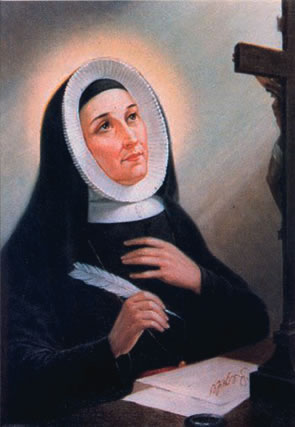 Saint Maria de Mattias (1805-1866)
Maria de Mattias was born in 1805 at Vallecorsa, Papal States. Her family was comparatively wealthy, but animated by a deep Christian faith. Women of her day were forbidden a formal education, but her father taught her to read and write and instilled in her a love of the Scriptures. Because of her social class, Maria spent her childhood and early adolescence withdrawn and focused on her beauty, but she came to question the hollowness of this existence in her mid-teens.
In Lent of 1822, Saint Gaspar del Bufalo came to Vallecorsa to preach a Precious Blood mission. Seeing how the townspeople changed generated a dream in her heart to do what Father Gaspar was doing.
Under the guidance of Venerable Giovanni Merlini, she founded the Congregation of the Sisters Adorers of the Blood of Christ at the age of twenty-nine. She had been called by the Bishop of Anagni to teach young girls, and she also gathered mothers and young boys to teach them the faith. The men, to whom she could not speak according to the customs of the time, went spontaneously to hear her, even in hiding.
Maria, from the timid and introverted girl that she was, became a preacher who attracted all kinds of people to hear about Jesus and the mysteries of the faith. Many young women caught her zeal and, through them, Maria was able to open about seventy communities during her lifetime.
Maria de Mattias' life was one lived with the single desire of giving pleasure to Jesus and in a joyful commitment to save 'the dear neighbour' from ignorance regarding the mystery of God's love for humanity.
Saint Maria, teach us never to be afraid to preach our faith.
(Source: Internet – various)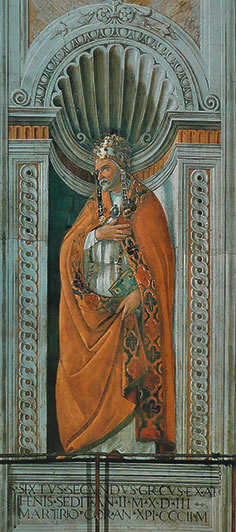 Pope Saint Sixtus II (d. 258)
Saint Sixtus was bishop of Rome from August 30, 257 to August 6, 258. According to the Liber Pontificalis, he was Greek by birth. During his papacy, the struggle between the Catholic Church and Novatianism, a schismatic movement that refused to grant absolution to those who had committed idolatry under persecution, continued to rage throughout the Christian churches.
The main accomplishment of Sixtus' papacy was to restore amicable relations with the African and Eastern churches. These had been strained by the policy of his predecessor, Stephen I, over the question of heretical baptism. Sixtus continued to uphold Stephen's policy that baptisms administered by Novatianist clergymen were valid.
Sixtus carried out his duties despite the first wave of persecution under Emperor Valerian I. However, a new and harsher edict resulted in Sixtus becoming one of the persecution's first martyrs. He was beheaded in August 258 with several companions.
Saint Sixtus, teach us to be instruments of peace for those around us.
(Source: http://www.newworldencyclopedia.org/entry/Pope_Sixtus_II)