Fr Terence Fitzpatrick sm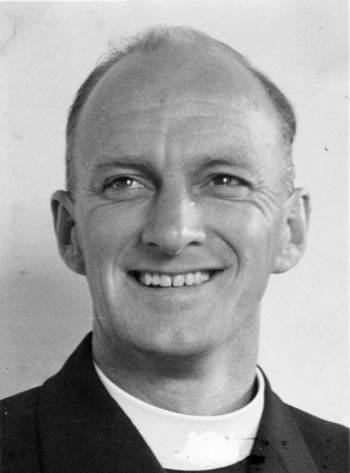 Born in Blenheim, 25 January 1927
Professed 11 February 1956
Ordained 28 July 1960
Died at St Joseph's Home of the Little Sisters of the Poor, Auckland, 9 June 2017
In Fr Terry's life, two qualities, consistent all through his life, stand out for me: his strong, determined personality; and his real concern for people allied with an ability to connect with them. This was highlighted at the vigil service last night when many people of different ages and different cultural identities spoke of how Fr Terry had touched their lives and the significant influence he had on them.
Most of his schooling was in Blenheim, where he was born: firstly at the local Catholic primary schools, and then at Marlborough College. He would recall with gratitude his time in the State education system. He had work experience both with the local newspaper, the Marlborough Express, and also as part of a shearing gang on the large Molesworth Station. He regarded this work experience as very significant in giving him a grasp of real life.
His seminary years at Mt St Mary's Greenmeadows were not easy. He found the schedule and system more suited to younger people with little life experience. He actually entered the seminary three times, having left twice, an indication of his determination to be a priest.
During his first nine years of ministry in Whanganui he developed a vital youth ministry. He also had a reputation for concern for people, especially those who had made mistakes.
He had high ideals, and found the more liberal attitudes that developed in the 60s rather difficult to accept. When he left Whanganui he wrote an article in which he described the place as Sin City. I doubt that it was any worse than other places, but for Fr Terry the changes were not acceptable. Yes -- he had a tendency to dramatise and even exaggerate in order to make a statement about something he felt passionately about.
In 1973 he became Parish Priest of Mt Albert Parish, Auckland. Bishop Delargey encouraged him to develop lay ministries with the establishment of a parish council and other parish committees that were reasonably new in those years. Fr Terry applied himself to that task with characteristic determination and enthusiasm.
After his time at Mt Albert he returned to Whanganui for six years as parish priest. The presbytery was very much an open house for the local people.
From the middle of the 80s he was clearly a priest on the move with short appointments in a number of parishes: Waitara, Island Bay, Parnell, Mater Hospital Chaplaincy, Parish supply, Pt Chevalier, actually a total of 9 years here, Auckland Cathedral, Chaplain to St Joseph's Home, Herne Bay, and Te Puna.
In 2005 he moved to the Home of the Little Sisters of the Poor, initially as assistant chaplain, and he lived there for the past 12 years. It is significant that during this time he continued his outreach to the local Women's Refuge, and also the Agape Group that he had formed and supported over a number of years.
Two images used by Pope Francis have particular application to Fr Terry's life. The Pope asked the church to be like a field hospital: in the world, in the midst of the struggle of peoples' lives. In speaking to a group of priests, he called on them not to lock themselves up in the presbytery, but rather to go out and 'smell like the sheep.'
Perhaps I cannot say anything more praiseworthy about Fr Terry than that he was a person grounded in real life, with solid faith, and a willingness to go out with deep concern for people.
Thanks to Fr Rodney Smyth sm for this abridged version of his eulogy.
Appointments
1961 - June 1966 Whanganui (curate)
June - Dec 1966 Second Novitiate
1967 - 1969 Whanganui (curate)
1970 - 1971 Hastings (curate)
1972 - Mt Albert (curate)
1973 - 1977 Mt Albert (P.P. & Superior)
1978 - 1983 Whanganui (P.P. & Superior)
1984 - Waitara (curate)
1985 - Island Bay (Vice-Superior)
1986 - Parnell (Assistant), Mater Hospital Chaplaincy; Parish supply at Orakei, Glen Innes, Takapuna
1987 - 1988 Parnell (P.P. & Superior)
1989 - 1991 Pt Chevalier (P.P. & Superior)
1990 - Oxnard, California, supply
1992 - 1993 Auckland Cathedral Presbytery - assistant
1994 - 1995 St Joseph's Home, Herne Bay (Chaplain)
1996 - Te Puna, P.P.
1997 - Parish supply, attached Pt Chevalier
1998 - 2004 Pt Chevalier
2002 - 2004 Superior, Pt Chevalier
2005 - St Joseph's Home, Ponsonby,
Little Sisters of the Poor, Assistant Chaplain