Fr John Hill sm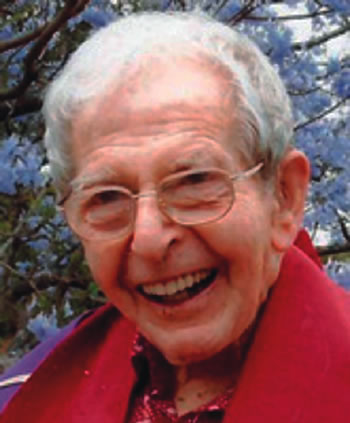 Born in Adelaide, 5 June 1923
Professed 2 February 1942
Ordained in Adelaide, 28 July 1948
Died at Eastwood, Australia, 20 May 2017
Fr John Hill sm was a most exceptional man. He died in Sydney two weeks shy of his 94th birthday. He was a Marist priest for 68 years and spent 53 of those as a missionary in Japan.
Fr John was the consummate networker and a genuine 'people person.' At his funeral were relatives and friends from every Australian state, except Tasmania. In spite of the great distance and long periods that John spent away from his homeland, he always kept close contact with his family, his friends, and acquaintances. At his funeral were boys, now men in their 70s, whom John taught in Taralgon, central Victoria, between 1959 – 1961, and who have remained firm friends of John ever since.
John was a great letter writer – but they were very difficult to read – and when a message of kindness or just news had to be delivered John would without hesitation make the necessary phone call, locally, inter-city, or internationally.
John was a very spiritual man. From his seminary days, he was devoted to the writings of St John of the Cross. He took these writings to Japan and as a consequence, in his latter days, being less busy, he was known for the time he spent in silent prayer before the Blessed Sacrament.
Fr Syd Nugent sm, friend and co-worker in the Marist Japanese mission for 50 years, observed, when preaching at John's funeral, that John wasn't a builder. He never built a church, a kindergarten, or a nursing home, as many of his Marist confreres did. John is remembered and greatly loved in Japan for his pastoral care of souls, in his parish work, his chaplaincy in the prison, and his work with disabled children in workshops.
John received a number of awards during his years in Japan: from the Nara City Office, for saving the lives of old people in the disastrous 1953 floods; later, he received public recognition from the Nara City Office for his effective counselling of inmates in the Nara Juvenile Prison. He also received public recognition for his work in the Nara City Workshop for Disabled Children. Finally, he was invited to Tokyo to be invested by the Emperor of Japan with the prestigious (O.R.S) Order of the Rising Sun.
Hearing of his death, Bishop Paul Osuka of Kyoto made a special journey to Nara on June 3 to celebrate a memorial Mass for Fr Hill. The church was packed.
John Hill was born in Adelaide into a family of five. He was educated by the Josephites at Alberton and the Marist Brothers at Glenelg, in South Australia. He entered the Society of Mary (Marists) at Toongabbie in 1941, where he did his training as a Marist and priest for the next 8 years. He was ordained in Adelaide Cathedral.
John's first two years of ministry were teaching in Australia before he left for the Japanese mission in 1951. After Language School, John joined the three pioneer Marists working in Nara Prefecture in Kyoto Diocese for six years. As more men joined the mission band in Japan, John returned to Australia for eight years. During this time, he did parish work for two years, followed by six years in the secondary education ministry as a teacher.
From 1965 until 2012 were the years when John did his greatest work in Japan, especially in the parishes, prison chaplaincy and with the disabled.
John's remains were laid to rest in the historic Villa Maria Cemetery, Hunters Hill, a base for Marist missionaries to the Pacific for 150 years. Following the burial, family and friends gathered in the monastery dining room for a great 'catch up,' just as John would have wanted.
Thanks to Frs Bob Barber sm and Paul Glynn sm for this tribute to Fr Hill.
Appointments
1949 - 50 St John's College, Woodlawn
1951 - 56 Parish, Nara Prefecture,
Kyoto Diocese
1957 - Star of the Sea Parish,
Burnie, Tasmania
1958 - St Patrick's, Church Hill, Sydney
1959 - 61 teaching at St Paul's College, Traralgon, Victoria
1962 - 64 teaching at Chanel College, Geelong, Victoria
1965 - 1984 Japan: parish work, prison chaplaincy, work with handicapped children
1985 - 86 Sabbatical: USA, Marienella, Dublin, Rome, Israel
1986 - Japan
April 2012 retirement at Montbel, Hunters Hill, NSW
2015 - St Catherine's Nursing Home, Eastwood, NSW