Fr Jean-Baptiste Chataigner sm – The 'Apostle of Canterbury'
As a young man Jean Baptiste Chataigner sm 'had been noted for a certain brusqueness and lack of diplomacy' but among his parishioners 'he cultivated some diplomacy. He won people over by gentleness and got his own way by tact, rather than by imperious commands.'
This is according to Mary Catherine Goulter in her book Sons of France, and her words capture much about the personality of one who was acclaimed as the Apostle of Canterbury by Archbishop Redwood. But he is remembered even more for his great energy and commitment in providing the churches and schools in the first parishes in Christchurch (1860-69), and Timaru and environs (1869-1882).
We can trace this man of action's origins to his birthplace in 1821 at Semur-en-Brionnais, a village in the region of Bourgogne in eastern France. Little is known about his childhood, but he wrote in 1857 that he had felt the call to the missions even in his teen years. Against his father's wishes, he joined the new Marist missionary society. After ordination, he was ordered under obedience to a total of twelve years' teaching and spiritual direction, including four years as professor of Canon Law and Sacred Scripture at the Seminary of Digne. His plea to the Marist Superior General in 1857 for a mission appointment was finally successful and in 1860 he arrived in Wellington, fully expecting to work among the Māori population. After just one month a totally different apostolate was thrust upon him. This thirty-nine-year-old Frenchman and academic who knew little English was to hurry to Christchurch with Fr Seon sm to establish the first parish in that Anglican settlement.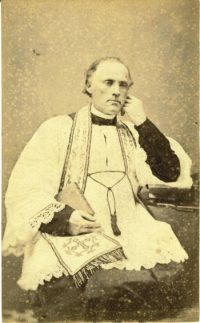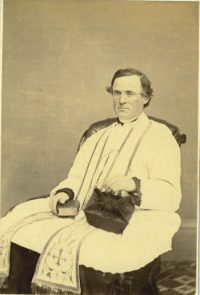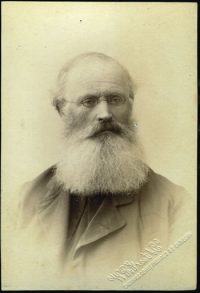 Fr Jean-Baptiste Chataigner - Photos from the 1860s, '70s and '80s
'With startling promptness and within fourteen days,' the first church and presbytery were erected to beat the deadline set by the donors. To Bishop Viard's dismay, he had borrowed three hundred pounds, which forced the Bishop, against his pecuniary instincts, to borrow half that amount at 10% interest. The reckless financial woes of the Auckland Diocese haunted Viard and moved him later to caution Chataigner.
After nine years of unstinting pastoral and building work, he moved to Timaru, repeating the pattern of meeting the needs of the mainly Irish immigrants, and soon erecting both churches and schools and engaging the services of the Religious of the Sacred Heart. Somewhat suddenly, after conflict with his newly appointed Irish diocesan assistant, he left the parish and the country.
Any criticism of Chataigner is more about his rather blunt, stern and no-nonsense personality, which did not endear him. But his zeal, energy and drive meant he was the right man in the right place to make sure that the immigrant Church had places of worship and centres of learning and education. He emerges as often gruff, and was best left to lead on his own terms, but he was effective and deserved the accolade of Archbishop Francis Redwood as the 'Apostle of Canterbury.'
What stands out for me about Fr Chataigner was his intense dislike of any public fuss or acknowledgement of his personal achievements. For example, his colleagues wanted to celebrate his jubilee of priesthood with a public event. He begged the Superior General to prevent this from happening. He succeeded in having it just as an in-house celebration. Again, he was given a new posting and at the evening meal he introduced his successor and said the successor would be leading the grace next day. By next day Chataigner had vanished without any chance of the community thanking him. This shyness or avoidance of the limelight, coupled with his stern application to the numerous practical tasks he faced, may account for his seeming distant in manner. He was a man of action rather than a warm soul-mate to people, admired rather than loved. It was noted by Mary Goulter that he never used Christian names, but the surname alone. When he was ailing at La Neyliere, he said to the infirmarian, 'Go and get Bremond (the superior), as I shall be dead tomorrow.' He was anointed and died the next day, as he had predicted.
References:
Lillian G. Keys, Philip Viard – Bishop of Wellington, Pegasus Press, Christchurch, 1968
Sean G Brosnahan, Thinking About Heaven – A History of Sacred Heart Parish Timaru, Pope Print, Timaru. 2011
Mary Catherine Goulter, Sons of France, Whitcombe and Tombs, 1958
Michael O'Meeghan sm, Held Firm by Faith, Pope Print, Timaru, 1988
Article, author unstated, Diamond Jubilee of Christchurch , Marist Messenger, May 1947