Māori and the Marists (4)
Records of a 175 year relationship
The MM is grateful to Archifacts, the magazine of the Archives and Records Association of New Zealand (ARANZ), to Theresa Graham, ARANZ president for permission to reprint this article.
Ken Scadden died on 17 October last year. R.I.P.
A Different Approach
The teachings of the early Marist missionaries reflected a very Western understanding of the Catholic faith and it took some time for calls for the development of a genuine Māori theology, Māori spirituality and Māori liturgy to be developed within the Catholic Church in Aotearoa/New Zealand.
Individual Marists recognised the need to blend Māori and Catholic theologies together but it was not the approach of the Marist Congregation as a whole.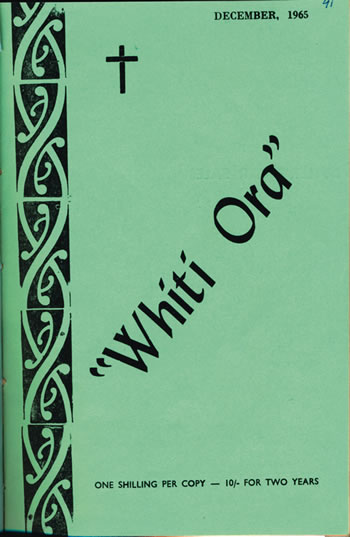 Fr Delachienne sm, often called Fr Delach, was a visionary man, well ahead of his time in promoting hui (meetings) and the marae as the most appropriate environment for the celebration of Catholic Māori faith. He founded a Māori language Catholic newspaper called Whare Kura which ran from 1909 to 1927.
Marist Archives in Wellington holds the surviving copies of the Māori language Catholic newspapers Whare Kura and Whiti Ora.
Hui Aranga
The first recorded instance of a hui organised by the Catholic Church in New Zealand as a means of transmitting the Christian message occurred at Otaki in 1909. For a variety of reasons they were discontinued after only a few years.
After World War Two several small hui aranga (Easter meetings) were held in Otaki in successive years. Then in 1948 the first big hui aranga was held at Maungarongo near Ohakune. During this hui the Central Council of the Federation of Catholic Māori Clubs was formed and the means of hui aranga to fill a gap in the Christian approach to Māori was discussed. This first hui away from Ōtaki was almost washed out by a storm and there were many "I told you so's" for taking it away from its traditional home in Ōtaki.
Nevertheless, in 1949, it was taken to Ngati Kahungugnu at their Takitimu Marae. Students from St Joseph's Māori Girls' College and Hato Pāora College, Parorangi, played a major role in the proceedings.
In 1950 it moved to Ketemarae in Taranaki, 1951 saw it back at its original home in Otaki and in1952 it moved to Kaiwhaiki on the Whanganui River – the place where in 1852 Father Lampila sm had set up the first Catholic Mission Station on the Whanganui River.
Hui aranga were notable for the attendance of Māori of all denominations – not just Catholics. The events of the hui aranga were reported on in the Māori Catholic newspaper Whiti Ora and in the national press and they continue to be successful gatherings today.
Marist Archives
The Marist Archives are being used more and more by researchers for an increasingly broad range of research topics. There is a great deal of interest in the diaries and letters of the early Marists with respect to Māori life, culture and customs. As we all know, archives which were created for one purpose can often find their greatest informational value in another. Prominent researchers in the past have included Michael King, Judith Binney, Claudia Orange and David Young.
The Archives have had researchers from the Waitangi Tribunal, the Crown Law Office and other academics visiting, as well as Māori doing whakapapa (genealogy) research. Some of the baptismal records have been used to authenticate pension and family benefit applications in cases where there are no birth certificates. Baptismal records have also been used to study the transliteration of names bestowed on Māori, usually Old Testament Biblical names given to Māori children in the 19th and early 20th centuries. Some marriage and burial records are also held for certain areas.
There have been a number of university theses, mostly from the University of Canterbury and the University of Waikato, based on the writings of the early French Marists held in Marist Archives.
I believe that the history of the Marists is inextricably interwoven through the mainstream history of Aotearoa / New Zealand, and that their records can be used to learn more of our country's past.